Human Resources
Millennials talk careers: Tony Dhillon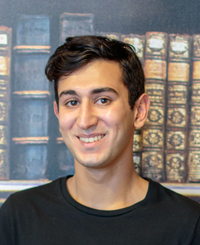 Name: Tony Dhillon
Age: 21
Education: Current student at the University of Kent on placement year in industry
Current Role: Lead Development Representative at Cogeco Peer 1
Ideal Role: Not sure, let's see…
Are the stereotypes about millennials true?
I constantly hear that millennials are 'lazy' or 'entitled', but I think it largely depends on the individual. I feel hugely grateful to have access to opportunities that my parents' generation didn't have. With more people now going to university and getting degrees, technology at our fingertips, advancements in tech, it's an exciting time to be starting a career and I think that can be lost on some people my age.
What benefits most attract you to a new position?
The main thing for me is work culture and environment. I realised very early on in the role that the work day is a significant amount of time to be spending in work everyday. It's important for me to feel well valued, and that I'm part of something. Although I don't think I'm a typical millennial in that sense. A lot of my friends that are currently graduating are motivated by money, and see it as a means to being valued.
In the long term which of the following is most important to you? (Please explain why?)
- Career development
- Work/ life balance
- Salary
I think a work / life balance is essential to being productive and performing well. I need to be able to work and leave it behind, otherwise the next day I'll be dreading coming in.
What do you think most companies are getting wrong when hiring/ retaining younger workers?
Its really important to have open and transparent communication about expectations, from both the company and young workers' perspectives. When organisations don't properly communicate what a role entails during the interview process, it may get people through the door, but it won't necessarily encourage them to stay. Without full insight surprises will occur.
Looking back, is there anything you'd change about the route you took to your current career?
I am on a year's work placement from university, and I'll be going back to finish my final year this autumn. Would I change anything? Honestly, no. Taking a year's work experience sandwiched in with my degree means I'm gaining skills that I wouldn't be getting otherwise.
I've been involved in interesting projects and I've been able to add so many relevant skills to my CV and LinkedIn profile.