Human Resources
C-suite career advice: Magnus Jern, DMI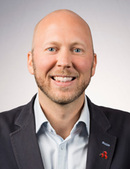 Name: Magnus Jern
Company: DMI
Job Title: Chief Innovation Officer (also President of DMI International)
Location: Barcelona, Spain

What was the most valuable piece of career advice that you received?
Never feel bad about resigning from a job or boss. If it's time to move on, then do it for yourself. Your former employer will survive without you. And always move on when you no longer feel challenged or you're no longer learning at the job.
What was the worst piece of business advice that you received?
"Focus on your objectives and get the job done and you will naturally climb the ladder" - It's simply not true. Corporate careers (and bigger start-ups) are sadly more about politics and marketing yourself than job performance.
What advice would you give to someone starting their career in the tech industry?
Work in a big company with a good reputation early on, even if it's in a junior role and you would rather work for start-ups. My 4 years at Vodafone were invaluable for me as an entrepreneur later on.
What tips would you give to someone aiming for a c-level position?
Build a relationship with several good head hunters and the jobs will come to you, as long as you deliver great results for your employers and have a good reputation.
Are you particularly proud of any career advice that you've given or the career route/development of anyone you've mentored?
Telling hundreds of people working for me to make sure that we challenge them to always improve, learn and develop new skills. And if we fail to do so they should look for and move on to other opportunities. We've lost a lot of super stars over the years but thanks to this I still have a great relationship with them as they went on to become senior managers at Apple, Google, Sony, McDonalds and other major companies.