Wireless Technologies
C-suite talk fav tech: Geoff Barrall, Nexsan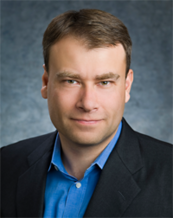 Name: Geoff Barrall
Job title: COO
Company: Nexsan
Industry: Computer Storage
Location: San Jose, California, USA
Years' of experience: 30 years
What is your favourite personal gadget?
My Apple Watch – I use it for everything from telling the time to reading my text messages and making phone calls. Probably the thing I use most is the 'find your phone' button that makes my phone ring so I can find it!
Do you have a favourite piece of personal software?
I use Audible almost every single day to listen to audiobooks. Like most people I have to commute to work but I actually look forward to it as I can catch up on my 'reading'. Some days it's business, some days it's history and some days it a good novel.
What was the first piece of technology you got really excited about?
The ZX Spectrum computer. Our school got one when I was 13 and I spent as much time on it as I could. It had these terrible rubber keys that made typing really hard. But each one had all of the commands the computer knew printed on them, so you could spot things you didn't yet know about and explore. The manual that came with it was also great and you could learn everything you needed to program it at home.
What device improves your life most at work?
My Apple Watch, I know I mentioned it before but seriously you have to get one! It makes a big difference to be able to see my next meeting on my wrist and to know when my phone is going off. I can see if a message needs to be responded to or if it can wait. The Apple Watch keeps everything in sync.
What software keeps you most productive at work?
I really like Timepage and use it as my main calendar app each day. I live in my calendar most of the day and Timepage brings a fun and whimsical aspect that brightens things up.
Is there any technology that has become extinct that you would like to resurrect?
It isn't extinct yet, but I will be sad if we lose DVDs and Blu-ray for movie streaming. Back in the days of VHS, there would be frustrating moments when the video you hired didn't work, due to the tape being stretched from overuse. The buffering and flaws of movie streaming can recreate that frustration too, so I would prefer to keep my DVD collection.
Is there any technology you would personally recommend that you don't think enough people know about? (Hardware or software, work or personal)
Uber – it is the future of taxi services. It doesn't matter where in the world I am I can press a button and somebody comes and gets me and then delivers me where I need to go next. It's cheaper and faster than regular taxis. It's such a massive change from the amount of planning that getting around used to take, it's had a real impact.
Do you think anything about your personal use of tech would surprise your colleagues?
I think most people would be surprised to know I don't use or keep a desk phone. I prefer to use computer software like Skype. When I get a new desk I unplug the phone to make space and get rid of it. So don't trying leaving me a voicemail on the company phone system