Human Resources
Typical 24: James Petter, Senior Vice President & Managing Director, EMC, UK & Ireland
IDG Connect is looking to speak to IT, business and marketing professionals across the spectrum to discover more about their very different, typical working days…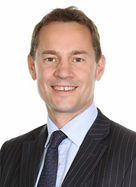 Name: James Petter
Job title: Senior Vice President & Managing Director
Company: EMC, UK & Ireland
Location: London, UK
Years' experience: 20
1. What time do you reach the office each day?
7.30, having been working en route - on calls, email and so on, from 6.23.
2. Is your job varied?
Yes, absolutely. I spend time with customers, partners, focussed on internal management and staff, delivering presentations, acting as an external spokesperson for the business in the UK, working with industry peers on shared issues and opportunities, engaging with policy-makers on data and cyber issues.
3. Is your job creative?
Yes, particularly in trying to work out where the market's going, figuring out how to adapt, and then creating new solutions and propositions to meet our customers' needs.
4. What do you spend the majority of your time doing?
The number one thing I spend time doing at work is talking to customers - talking and working with employees on management or internal issues runs a close second.
5. Do you personalise your desk?
Not at all, actually. I have digital photos on my computer, but I keep a pretty sharp divide between work and home. As far as I'm concerned, work's work, and home's home. The closest I get is a picture of our holiday home on my iPad's lock screen!
6. Would you describe yourself as creative?
I have my moments - I'm a little bit like a steam train, and need to get up a head of steam to get going. I make sure I'm surrounded by more creative people to help.
7. Do you have any quirky daily rituals?
I get up at 6.03 exactly and leave the house 20 minutes later. Getting up at 6.03 makes me feel like I've had a lie in (if it only lasts three minutes!) which makes it a little easier to get going!
8. Do you tend to work on your own or with colleagues?
Colleagues, every time. I love being part of a team.
9. How many hours on average do you work a day?
13.5-14 hours a day, including trying to be productive on the travel time in and out of the office.
10. Roughly how much time do you spend each day on email? Taking calls? In meetings?
Roughly, on average, 1hr on email, 7+ hrs in face-to-face meetings. The rest of the time is spent travelling or on the phone. Some days, with that many meetings, you can get a bit tired of talking to other people, but mostly I relish it!
11. Do you use social media much for work?
I've become a heavier user of LinkedIn of late - I find it helpful for engaging with colleagues, customers and partners and an increasingly good source of insight from around the industry. I share and get good engagement on my posts to EMC's Bigger Game blog there.
12. What do you enjoy most about your work?
My favourite activities at work involve seeing customers, solving their problems and closing business. In equal measure I enjoy working with the team to deliver against our business objectives. The variety is fantastic.
13. What type of music (if any) do you listen to at work?
Never - don't have the opportunity. But I am an AC/DC fan, and Back in Black is my ringtone, which is usually good for a chuckle when it goes off.
14. What do you do for lunch?
I have a tuna & chilli wrap, with soup and a bottle of water - every day. I try to eat healthy, and I guess I like routine!
15. Do you socialise with work colleagues?
Yes, we have an active social community at EMC so we have the odd evening out, summer BBQs, parties, and do a lot of charity work with the Princes' Trust. We host family days and also do some client entertainment too, so there's plenty of opportunity to hang out with each other and catch up over a drink.
16. Are there any tasks (through your career) you've been especially glad to get rid of?
When I first started in sales, my first job involved flicking through the yellow pages and cold-calling businesses to sell advertising space. I don't miss it much. In the main, though, I enjoy being active in the role - in meetings, on the road, out there meeting customers or staff. If I had to sit at my desk all day I'd get really bored!
17. What is your last task of your day?
A call in the car on the way home, with a customer or colleague. A common 'last task' involves checking in with my assistant Rosemary to find out what else I need to do that day!
18. How do you like to relax after work?
I tend to go out for a run - I'm training for the Snowdonia challenge this summer, which will be quite taxing. It's a good cause and one we're really proud to support. If you want to donate some money to Tree of Hope, the charity we're running for, please do sponsor us here http://www.justgiving.com/teams/EMCUKChallenge. Tree of Hope offers specialist medical surgery to sick children most in need of it around the UK, and we've seen first-hand the impact it can have on peoples' lives.
19. Do you keep checking email through the evening?
Yes - up until around 8.30, when I try to disengage.
20. Do you take work projects home with you?
I try not to!
21. What would you say to your 20-year old self?
Don't get rid of the Harley, you'll regret it! More seriously: do something every day that scares you. The challenges keep you alive.
22. If you could try out any job for a day, what would you choose?
I'd love to be an astronaut on the International Space Station, or an explorer. I'm fascinated by the idea of new experiences, going to the edge of the known world.
23. What device did you use to answer these questions?
I spoke to my team, who helped me put them down. I reviewed and edited them on my Lenovo laptop / iPad / iPhone.
24. Do you use your own personal device for work?
All customer facing staff at EMC UK&I get the option of iPads & iPhones - they help keep us connected and productive on the move. So no, I'm happy with the work-issued devices!