Healthcare
Lybrate wants to end doctor shortage problem in India
"I noticed people would be coming into the pharmacy without a prescription. They would just come in and [say they have a bunch of symptoms] so the pharmacist became like a doctor and now this has become quite dangerous. [You find this] sort of practice especially prevalent outside the metropolitan cities in India and I thought [the way to address this] is to allow the users to connect with doctors," Saurabh Arora, CEO of Lybrate tells me over the phone from India.
Arora has touched upon one of the many challenges the healthcare system in India is facing at the moment. Around 600 million people have limited access to healthcare, especially in rural areas. Only one doctor is available for every 1,700 patients.
In addition, the growing trend of self-medication means that more Indians are taking medications based on recommendations and self-research than through doctors. Lybrate interviewed 20,000 people in 10 cities and found that 52% of Indians were self-medicating.
For Arora, the solution is Lybrate, a platform that helps users connect with doctors in the style of WhatsApp. The platform was officially launched earlier this year and is so far doing well. It won the "Innovative Start Up of the Year" award at the Entrepreneur India Awards 2015 and the site gets more than 150,000 visitors every day.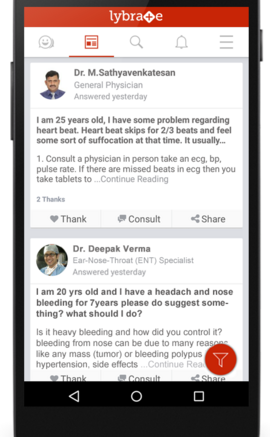 Users can anonymously post a question about their health and if the condition is serious, the patient can "get into a serious discussion with a doctor". But Arora says the aim is not just to connect doctors with patients but to get users interacting regularly with the site.
"We don't want people to just use Lybrate when they are feeling unhealthy. We want them to regularly use Lybrate to find ways to stay healthier".
Arora is referring to Lybrate's health feed which, similarly to Facebook, features a stream of customised health content. Users can get health tips on a range of topics from everyday healthy living to parenting.
How did Arora manage to get doctors on board?
"Initially through advertising on Google and Facebook. Once we had some doctors on board, we used the technology to get the doctors to talk [to their friends who were doctors] about Lybrate. So it was through a mixture of advertising and word-of-mouth, supported by technology."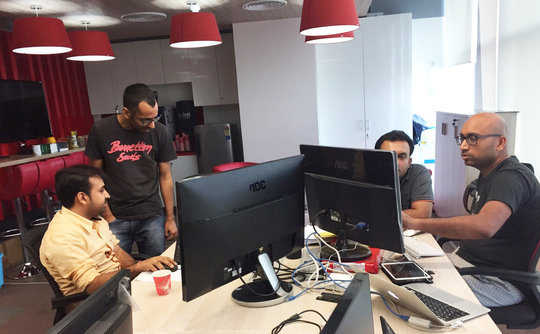 Lybrate now has more than 80,000 doctors. If users want to talk to a doctor privately on the site they have to pay the professional fee of the doctor plus the internet handling fee which goes to Lybrate. Arora says the handling fee is in the range of 5-15%.
Prior to launching Lybrate this year, Arora worked as a Data Scientist at Facebook for two years in the US. It was during his visits to India every six to ten months that he noticed people coming into the pharmacy without a prescription and relying on the pharmacist to provide diagnoses. It is this which led him to come up with the idea for Lybrate.
For now Arora says there are no plans to expand internationally as he is keen to keep the focus on India.
What was it like to win the "Innovative Startup of the Year" award?
"It was a great experience and it [was nice] to have our potential to make a much bigger impact recognised. In a country like India where mobile penetration is higher than computers – our goal will always be to focus on mobile apps."