Human Resources
Millennials talk careers: Ari Ratnakumar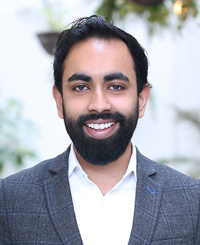 Name: Ari Ratnakumar
Age: 27
Education: Management & Strategy, Aston Business School, New Entrepreneurs Foundation, London Stock Exchange ELITE programme (2016)
Current role: Chief Financial Officer & Partner, Wiser
Ideal role: What I'm doing now!
Are the stereotypes about millennials true?
Firstly, I think the word millennial is overused and means different things to different people.
I Googled a few stereotypes that are associated with 'millennials'. The first one that came up was "millennials are lazy." Now, this can be said about any person from any generation. I would say that now if anything, millennials have to work even harder at what they do as the competition is so high. Even with interviews, there are so many stages that an individual has to go through now; it's a lot more long-winded and complex compared to years ago. I personally work at a company filled with very hard-working, young individuals.
Another stereotype that I found was "millennials set the bar too high because of a sense of entitlement." Again, not sure how true this is. At least, I don't think this is because of a sense of entitlement. As a member of the New Entrepreneurs Foundation, I meet a lot of ambitious young people. I think that setting the bar high could simply be a form of ambition and career-goals. Young people have had to work hard at achieving the appropriate grades at university (not to mention the large debt that comes with it) to get a job now, and so this could be a contributing factor to having a high 'career bar'.
Overall, I must say that I think people who believe these stereotypes haven't worked with or employed younger people, as they are some of the hardest working people I know.
What benefits most attract you to a new position?
Training and development, progression and also good work culture. If you have a toxic or even just a boring work environment, your quality of work will definitely be affected.
In the long term which of the following is most important to you? (Please explain why?)
Career development
Work/ life balance
Salary
I would say that long term, career development would be most important to me. Yes, you could be on a well-earning salary but could be stuck in the same role for years and years. I would like to be able to look back on my career and see my own movement and progression.
What do you think most companies are getting wrong when hiring/ retaining younger workers?
Startups tend to be founded by younger people, so I would say that most of these problems probably lie in larger, older corporations. I think something that a lot of companies can get wrong is not giving their new, younger employees enough responsibility. Yes, they do have to work their way up as does everyone. If you give them enough responsibility that allows them to see the difference they are making, then they are far more likely to want to work harder and move up in the company.
I think it is also important to not assume that just because they are young, they are not as capable as their seniors. Hiring younger people must be looked at as an opportunity for getting fresh, more current ideas and opinions. You assume that the people who have been in the company for years will be more capable. However, this can mean that they are more stuck in their ways - highlighting the importance of bringing younger people in; not to take over, but to add more.
Looking back, is there anything you'd change about the route you took to your current career?
I don't really like to look at things like that. Yes, I was very young when I started my own business, but I'm always one to jump at an opportunity. I would say that looking back, I'm very happy with how everything worked out and the valuable lessons I learnt along the way. If I hadn't grabbed that opportunity when I was able to, maybe then I would regret something.