Human Resources
C-suite talk fav tech: Gert Rieder, Falcon Media House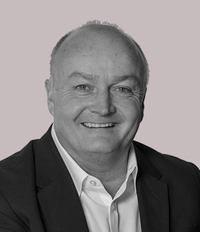 Name: Gert Rieder
Job title: Chief Executive Officer
Company: Falcon Media House
Industry: Telecommunications
Location: Sweden & UK
Years' of experience: Over 25 years
What is your favourite personal gadget?
The new iPad Pro. It combines the functionality of a mobile device, PC laptop and a TV screen – I travel often, so it's a handy way to carry the TV with me.
Do you have a favourite piece of personal software?
FaceTime is my favourite – it's a great way to stay close to my family whilst I'm away from home with work.
What was the first piece of technology you got really excited about?
To answer this, I need to go a long way back! I'd say the Nokia 2110 mobile phone from 1994. This was the first device where I could easily write texts, and it was also available in a range of colours. I downloaded the stairway to heaven ringtone – it was really cool!
What device improves your life most at work?
My Samsung Galaxy S8 Plus. It allows me to carry two sim cards, my UK one and an international one, meaning I can have everything in one place. Whenever I'm on the move, and not using my iPad, I use it as my laptop, TV screen and music library. I can even use it to work on PowerPoint presentations!
What software keeps you most productive at work?
Google's suite of software – it keeps me connected at all times and means I can access whatever I need in an instant, wherever I am.
Is there any technology that has become extinct that you would like to resurrect?
Two things immediately spring to mind. Firstly, I would resurrect the traditional corded phone - it always worked and never required a software update. Secondly, I miss my Mission Cyrus One amplifier – as a music lover, in a time where everything is streamed, I still remember the excitement of plugging into that amplifier and turning my music up loud.
Is there any technology you would personally recommend that you don't think enough people know about? (Hardware or software, work or personal)
Video calling. There are still an enormous amount of people, particularly older generations who are not using this technology. I urge everyone to try it, including my mother, as it really does make a difference to see someone's face.
Do you think anything about your personal use of tech would surprise your colleagues?
I think they would be surprised by the number of gadgets I carry around with me, and have in my home. I have so many that I'm now setting myself a challenge to limit the amount of time I use my mobile. I'm going to ban myself from using it in certain rooms in the house and at work!