Human Resources
The CMO Files: Prasenjit Roy, Netmagic & NTT Com India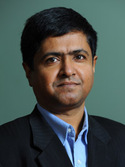 Name: Prasenjit Roy
Organisation: Netmagic (An NTT Communications Company) & NTT Com India
Job title: Senior Vice President & Chief Marketing Officer
Location: Mumbai, India
1. Where were you born and raised?
Born and brought up in Kolkata, India.
2. What was your first job?
Managing Marketing functions at Tata Steel, Jamshedpur
3. What was the first product you got really excited about?
When I laid my hands on computer / laptop
4. Who has been the biggest influence on your career?
No one in particular. Several people have contributed and influenced my thought process during the career path.
5. What has been your greatest achievement?
Developing Business, Presence & Brand Equity in Continental Europe where the company had absolutely no footprint.
6. What has been your biggest mistake?
Not having international exposure (working there) much earlier in my career.
7. What is your greatest strength?
Patience and perseverance
8. What is your biggest weakness?
I always prefer to leverage on my strength and proceed accordingly, rather than introspecting on weakness.
9. What do you think is the aspect of your role most neglected by peers?
The focus should be to a partner to employee in achieving their goals.
10. Which word or phrase is your mantra?
Don't Quit
11. What makes you stressed?
Lackadaisical attitude
12. What do you do to relax?
Play with the kids
13. What is your favourite song?
Hotel California
14. Which book taught you most?
-
15. Do you have a team or sport that you follow?
Cricket – India team.
16. Which country would you like to work in?
India
17. Which company do you think has the best marketing?
For me, I'm thrilled with the enthusiasm and energy of my current Marketing team.
18. What do you love most about your job?
My team members and the space & freedom provided by management to execute and excel.
19. What is your favourite book?
Jonathan Livingston Seagull by Richard Bach
20. What keeps you awake at night?
Generating ideas to keep up the energy, passion and fire in the belly of team members at work.