Wireless Technologies
C-suite talk fav tech: Nick Black, Apadmi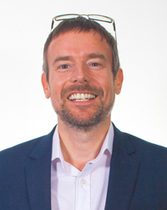 Name: Nick Black
Job title: CEO
Company: Apadmi
Industry: App development
Location: Manchester, UK
Years' of experience: 20
What is your favourite personal gadget?
I have a selection of connected home gadgets such as Hive and Phillip Hue Lights. They're all efficient when controlled through an app, but it will be even better when the 'smart home' becomes a fully connected experience through an overarching device such as the Apple Homekit.
Obviously, like most people, I couldn't do without my phone, but it's important to remember that it is just a platform. It's the apps and services on the phone that really make it useful. Most of my favourite apps are the more mainstream and popular, but for a reason - they make everyday life that little bit easier.
What was the first piece of technology you got really excited about?
My real passion for technology started when I watched the film The Lawnmower Man in 1992, as it really opened my eyes to the potential impact tech could have on our lives. In terms of gadgets, it would have to be VR – it's definitely on my Christmas list this year! From my research, the PlayStation VR is one of the best on the market because it is easy to set up and relatively low cost if you already own a PS4. There are also more than 30 games already available, which is a great offering for such a new device - some of which are more sociable two-player games. It is still early days for VR gaming, but I believe we are at the start of a whole new exciting experience for consumers, brands and business in this area.
What device improves your life most at work?
That would probably be my Bose Quiet Comfort 25 Headphones, which are great for getting your head down and doing some work in a noisy tech office. They are also ideal for when I go on business trips as they make the perfect tech companion for a long journey.
Is there any technology that has become extinct that you would like to resurrect?
Most technology that isn't around anymore has been phased out for a reason. Whilst I'll admit that tech such as polaroid cameras, the snake game on an old Nokia or teletext might bring a bubble of nostalgia, I don't think these things have a feasible use as technology progresses.
Is there any technology you would personally recommend that you don't think enough people know about? (Hardware or software, work or personal)
While people do know about it, we are still waiting for a real kick off over the Internet of Things (IoT). There definitely are some smart gadgets that I really like, but I don't think we've seen the inspirational and innovative leap of a huge IoT project just yet - give it five years.
Do you think anything about your personal use of tech would surprise your colleagues?
For me, the best gadgets are ones that solve a specific problem or provide a great user experience, particularly those that fit in with our lives so well that after a while we take them for granted. We sometimes forget that even the likes of the can opener was once an innovative gadget!