Human Resources
Typical 24: Sean Farrington, MD UK & Ireland and Regional VP for Northern Europe, Qlik
IDG Connect is looking to speak to IT, business and marketing professionals across the spectrum to discover more about their very different, typical working days...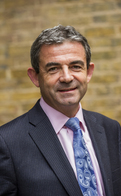 Name: Sean Farrington
Job title: MD UK & Ireland and Regional VP for Northern Europe
Company: Qlik
Location: Coventry, UK
Years' experience: 20 years
1. What time do you reach the office each day?
I normally arrive from 7.30am onwards depending on where I am in the world. Usually I work from home or the Qlik head office in Winnersh. However, I also spend a lot of time at multiple locations across the Nordics.
2. Is your job varied?
Yes, it is massively varied, both in location and also in the demands of the Managing Director job role. Within any one day my focus can range from customer facing activities, broad business challenges, future products, deal construction, licensing, right through to employee development. A huge variety.
3. Is your job creative?
It is, but not in the traditional sense. There are two main areas of creativity. Firstly, solving unique challenges that customers present us with. Secondly, most leadership roles require creativity in communicating key messages around strategy, keeping it clear and stimulating for employees.
4. What do you spend the majority of your time doing?
The majority of my time is spent talking about customers, such as discussing customer support challenges with the sales team, developing new ways to best engage them, or talking to customers themselves.
5. Do you personalise your desk?
No, I deliberately hot desk. This allows me to engage with as many different employee groups in the office as possible. Cross-company teamwork is at the core of Qlik's principles, so it's important I embody that as MD.
6. Would you describe yourself as creative?
In a business sense – such as the capacity to solve customer challenges and devising new ways to convey business goals to the teams I work with.
7. Do you have any quirky daily rituals?
I follow the 5-2 fasting diet, where you eat normally for five days but restrict your calorie intake on the other two days. I've been doing this since middle of 2013 but will consciously exclude holidays, big summits and events when it becomes anti-social not to eat!
8. Do you tend to work on your own or with colleagues?
The vast majority of my time is spent interacting with colleagues. Team ethic is a big part of what we are about.
9. How many hours on average do you work a day?
At least twelve. This is a combination of office hours and phone calls on the commute from 6.30am. Many of my colleagues and customers are in Sweden and Denmark which are both an hour ahead, so people are already at work by the time the UK wakes up. In the evening, if I'm away on business, I often use my tablet to get a bit more work done. I try to avoid this during the week and at weekends if I'm at home with the family.
10. Roughly how much time do you spend each day on email? Taking calls? In meetings?
I probably spend three hours on email at my desk, four hours on the phone and two hours in meetings.
11. Do you use social media much for work?
I use LinkedIn most days, and Twitter a fair amount. I wouldn't say I'm an avid Twitter user though, more of a retweeter! Generally I use it to monitor the news.
12. What do you enjoy most about your work?
The people-centric nature of my work is what I enjoy the most. I come across a tremendous variety of interesting people. It's also very fast paced which suits me.
13. What type of music (if any) do you listen to at work?
To be honest, I don't really listen to music at work. It is important for me to be as accessible as possible. Speaking to senior employees should be open and straightforward so I don't want to have headphones in.
Also, I rarely do sustained periods of activity. Most of my day-to-day job consists of 20-30 minute tasks, so there is no time to settle down. Even in the car, I'll listen more to Radio 4 than the music stations.
14. What do you do for lunch?
Lunch is totally varied. As mentioned above, for two days a week there is no lunch because of the diet. I'll often use lunch time to be productive, such as meeting with a colleague. If I'm grabbing a sandwich, I'll usually go to Eat as it is a customer of ours!
15. Do you socialise with work colleagues?
Yes, often I'll grab a beer or a meal with colleagues during the week. I usually reserve the weekends for family time.
16. Are there any tasks (through your career) you've been especially glad to get rid of?
Although I miss my military days from my early career, it is good not to wear gas masks and NBCs (nuclear, biological, chemical suits) anymore!
17. What is your last task of your day?
I usually review my agenda for the next day so I know what's coming.
18. How do you like to relax after work?
I enjoy going for runs, playing golf and just spending time with the kids – so nothing unusual! I also like to cook.
19. Do you keep checking email through the evening?
Yes, especially when away for work.
20. Do you take work projects home with you?
Sometimes - but I try to make a distinction between my business and leisure time, as I often work from home. If returning from the office, I'll try not to work when I get back. If working from home, I'll identify a time to end the working day. On Fridays I try to work no later than 7pm. I set my internal out of office to encourage others to prioritise home and leisure time on a Friday evening.
21. What would you say to your 20-year old self?
Do it sooner. Do everything sooner. I find there are very few decisions that get better with age, nothing gets any easier. It is, however, much easier to deal with consequences when you're young. There's no point waiting to do the things you want to do. You are just losing precious time.
22. If you could try out any job for a day, what would you choose?
I would like to fly an air ambulance for a day. I used to be a helicopter pilot in the army but being an air ambulance driver allows you to apply those skills and make a difference in the civilian world.
Other jobs I quite fancy are being an actor in a film and presenting a breakfast radio show – the humour, improvised nature of the commentary really appeals to me.
23. What device did you use to answer these questions?
A Samsung S4 mobile and my Apple Mac.
24. Do you use your own personal device for work?
Yes, I use my MacBook and also an iPad, although the latter is technically a work-owned device.