Human Resources
The CMO Files: Aaron Feigin, Sumo Logic
Get inside the minds of the world's top marketing professionals. In 20 questions, we find out what they love most about their job... and what keeps them awake at night.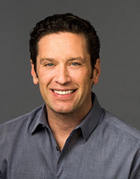 Name: Aaron Feigin
Organization: Sumo Logic
Job title: Vice President of Marketing and Communication
Location: California, USA
Where were you born and raised?
I was born in Philadelphia and raised in Alaska.
What was your first job?
My first under-the-table job was clearing snow off roofs. Then got serious at age 12 and started working at a local sandwich shop in Anchorage called Sweet Aimees.
What was the first product you got really excited about?
Rums of Puerto Rico account at Hill & Knowlton in New York City. Didn't have much money, but did have access to the product closet, and Bacardi 151 goes far on a Friday night when you are 22!
Who has been the biggest influence on your career?
I spent four years working with Paul Maritz when he was CEO of VMware. He is the smartest and most humanly-grounded executive I've ever worked with. And his use of language was arresting. I remember pressing him about an upcoming keynote, and he looked at me and said: "Until I see the sight of the gallows, there are other wolves nipping at my heels." Everything he said had meaning and was thoughtful, and that made a big impression on me.
What has been your greatest achievement?
When I was young, in grade school, I struggled mightily with learning disabilities. Overcoming those as a young adult and going on to build a career and good living off of creativity and the written word has to be one of my biggest accomplishments.
What has been your biggest mistake?
Not buying Apple stock, though I've owned pretty much every Apple product since the Apple IIe.
What is your greatest strength?
Creating a sense of inevitability.
What is your biggest weakness?
The perception that I don't care about data.
What do you think is the aspect of your role most neglected by peers?
Balance of art and science. Breakthroughs require the rational and emotional. Too few at the leadership level are good at balancing both, and lack the instinct to make a bold bet.
Which word or phrase is your mantra and which word or phrase makes you squirm?
My mantra is "trust and serve." I squirm when I hear: "Great idea, but we don't have the budget." I operate with an abundance mentality...you can always find the budget.
What makes you stressed?
A concern that I'm wasting people's time.
What do you do to relax?
When I have free time, I run and write.
What is your favorite song?
"Hunger Strike" by Temple of the Dog.
Which book taught you most?
Where the Sidewalk Ends by Roald Dahl
Do you have a team or sport that you follow?
Anything being played by my two high school sons
Which country would you like to work in?
I'd split time between France and Japan.
Which company do you think has the best marketing?
Nike - consistently cutting edge and comfortable with controversy and social commentary if/when it aligns with their values. The recent Pro Hijab campaign warms my heart.
What do you love most about your job?
Solving a hard problem while working with great people.
What is your favorite book?
The Alchemist by Paulo Coehlo
What keeps you awake at night?
Concern for loved ones who suffer from insomnia.