Human Resources
Typical 24: Gavin Wheeldon, Purple
IDG Connect is looking to speak to IT, business and marketing professionals across the spectrum to discover more about their very different, typical working days…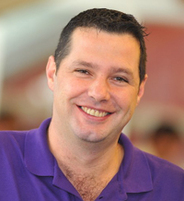 Name: Gavin Wheeldon
Job title: CEO
Company: Purple
Location: Oldham, Greater Manchester, UK
Years' experience: 16
What time do you reach the office each day?
When I'm in the office, I usually arrive around 9:15 as I do the school run.
Is your job varied?
Extremely, I span all the departments so can be talking about development projects one minute and HR issues the next, I love it that way though.
Is your job creative?
Yes, which is probably the best bit. I love the development and innovation side. We are very much a design led technology company.
What do you spend the majority of your time doing?
There's no one thing that dominates my schedule, sales, development, finance and marketing probably take the lions share though.
Do you personalise your desk?
Yes, with a couple of photos but not much beyond that.
Would you describe yourself as creative?
Yes, I'd like to think so. I have a strong opinion on the creative elements of both marketing and development.
Do you have any quirky daily rituals?
Other than drinking too much Diet Coke, no.
Do you tend to work on your own or with colleagues?
Mostly with my colleagues. My office tends to be a bit like a drop-in surgery throughout the day
How many hours on average do you work a day?
If you ask my wife then too many, but I'd say 10-12 on average.
Roughly how much time do you spend each day on email? Taking calls? In meetings?
It's tough to say, I tend to do a lot of emails at night so the day is mainly filled with Web and physical meetings, interspersed with emails.
Do you use social media much for work?
I use LinkedIn quite a lot, and sometimes use Twitter.
What do you enjoy most about your work?
Pushing the envelope of technological capability and growing the business globally.
What type of music (if any) do you listen to at work?
I'm more of an audiobook person and I like listening to the news, which isn't great for working.
What do you do for lunch?
I like to walk out and grab a sandwich or a salad from somewhere. It's a good time to stretch the legs and get some fresh air.
Do you socialise with work colleagues?
Yes, I do although not regularly. It tends to be more when we're away on business or at set company events.
Are there any tasks (through your career) you've been especially glad to get rid of?
Not really tasks, I wouldn't say there's anything I disliked intensely although I was extremely glad to see the back of a suit and tie.
What is your last task of your day?
I tend to check through analytics on Salesforce, and then go onto Google Analytics and Jira for development.
How do you like to relax after work?
I enjoy a couple of hours doing bath and bedtime with the kids and then cooking a meal for me and Mrs W before getting back at it.
Do you keep checking email through the evening?
Very much so!
Do you take work projects home with you?
Yes, I'd say it was probably one of the most productive times of the day.
What would you say to your 20-year old self?
Turnover is Vanity, Profit is Sanity and Cash is King.
If you could try out any job for a day, what would you choose?
I'd be a snowboarding instructor.
What device did you use to answer these questions?
My MacBook Air.
Do you use your own personal device for work?
Yes, all my equipment is my own.