Human Resources
Typical 24: Tommy Petrogiannis, Silanis
IDG Connect is looking to speak to IT, business and marketing professionals across the spectrum to discover more about their very different, typical working days…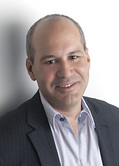 Name: Tommy Petrogiannis
Job title: CEO and co-founder
Company: Silanis

Location: Montreal, Canada
Years' experience: Over two decades
1. What time do you reach the office each day?
When I'm not on the road for work, I'm usually in the office by 7am.
2. Is your job varied?
As the CEO and co-founder of Silanis Technology, my job varies day-by-day. My responsibilities range from setting the company strategy and vision to building corporate culture and ensuring the entire team is working towards the corporate goal of delivering the 'best experience ever.'
3. Is your job creative?
I definitely see my job as being creative. Something we really focus on at Silanis is delivering the best possible customer experience and as we all know, the customer is always changing. As a result, we are always finding innovative ways to meet our customers' evolving needs. That 'best experience ever' extends to our staff as well, so I'm constantly brainstorming ways to keep employee needs top of mind.
4. What do you spend the majority of your time doing?
I spend most of my day helping remove any obstacles that may interfere with my team's ability to do their job.
5. Do you personalize your desk?
A little, with pictures of my wife and children.
6. Would you describe yourself as creative?
I think finding solutions to challenges that naturally come up in the workplace is certainly creative.
7. Do you have any quirky daily rituals?
When I get into the office in the morning, I like to take a tour around the office, check in with all the different managers and get a feel for how things are moving. And if I've had some ideas overnight, I'll go chat with the relevant VPs and see if the ideas have legs.
8. Do you tend to work on your own or with colleagues?
I prefer to work with my colleagues. I find that I am much more productive and creative when I'm working with a group of people and we are all thinking out loud and talking together.
9. How many hours on average do you work a day?
On average, I typically work about ten hours each day.
10. Roughly how much time do you spend each day on email? Taking calls? In meetings?
I really try and spend as little time as possible on email. I'm a big proponent of face-to-face and over the phone interactions so I try to maximize the time I spend communicating in those ways. For calls and meetings, I'd say I spend about two to three hours each day on each.
11. Do you use social media much for work?
Yes, social media is increasingly becoming a larger part of the daily fabric of business. Personally, I find myself spending most of my time on LinkedIn.
12. What do you enjoy most about your work?
I really enjoy the people I work with. I've been working with some of my colleagues for more than twenty years and I strongly believe that one of the reasons I enjoy work so much is because of the people. My colleagues are a group of incredibly smart people and I find myself learning something new from them each day.
13. What type of music (if any) do you listen to at work?
In the morning, I'm always playing some sort of classic rock, either from the 70s or the 80s. Throughout the day, I always have music playing in the background but classic rock in the morning really helps me get my day started.
14. What do you do for lunch?
Most of the time, I have a meeting during lunch. I really try to make this a "walking meeting" so I have some time to get some fresh air and stretch my legs. I love Montreal and am constantly looking for an opportunity to walk around and explore.
15. Do you socialize with work colleagues?
Yes, we usually have an impromptu get together at least once a week
16. Are there any tasks (through your career) you've been especially glad to get rid of?
Definitely, anything that is contract related I'm happy to have off my plate. "Lawyer speak" is not my strongest dialect.
17. What is your last task of your day?
I really live and breathe by my calendar so at the end of each day, I look ahead for the rest of the week or even into the next week so I can know what is coming up and plan accordingly.
18. How do you like to relax after work?
There are two main things that I like to do relax. The first is cycling, which I've become a bit of a fanatic about it. It's a great way to decompress and take some time for myself. I also really enjoy playing the guitar – I was classically trained as a child, so it's been a lifelong hobby. A record company actually approached my band when I was 17 but signing with them meant quitting school, and that wasn't an option for me.
19. Do you keep checking email through the evening?
I try not to check my email throughout the evening. Granted there are certain times that require it, but usually I try not to. I've even set up a specific alert for emergency related emails, so that helps.
20. Do you take work projects home with you?
At times, yes. Similar to checking my emails, there are certain times or situations that need to be taken home.
21. What would you say to your 20-year old self?
"Do what you love and surround yourself with people you like while doing it."
22. If you could try out any job for a day, what would you choose?
I would love to be a fighter pilot for a day. That sort of intensity would be a huge rush.
23. What device did you use to answer these questions?
Over a landline phone.
24. Do you use your own personal device for work?
I don't. For security purposes, all of the devices at Silanis need to be issued through the company and not our own.