Human Resources
The CMO Files: Blake Cahill, Philips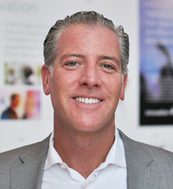 Name: Blake Cahill
Organisation: Philips
Job title: SVP of Global Digital Marketing & Media
Location: Netherlands
Where were you born and raised?
I was born in the US, and then raised in Portugal and Spain, before moving back to the US. I caught the travelling bug at an early age – which is probably why I have always enjoyed such global roles and have enjoyed working in both Belgium and now the Netherlands.
What was your first job?
I started out my working life in a greenhouse/nursey. Although it's a world away from my current role, it certainly developed my green thumb and passion for growing things outside of the office!
What was the first product you got really excited about?
There are two that really stick in my mind: my Atari game consul and HP 15C Calculator.
Who has been the biggest influence on your career?
Across my career I have followed many digital and tech companies – focusing on those with strong leaders that have made a lasting impression on me, but to name a few I would have to say the likes of Steve Jobs - Apple, Jeff Bezos - Amazon and Marc Benioff – Salesforce.
What has been your greatest achievement?
Without a doubt, my family. I owe a huge amount of my successes to them and their ongoing support.
What has been your biggest mistake?
Once I did a 3 mile open water swim and didn't wear a wetsuit – that was undeniably one of the worst ideas I have ever had!
What is your greatest strength?
I have a real passion for everything that I do, so when things get tough I always have that to fall back on – which I find gets me out of most fixes.
What is your biggest weakness?
If I'm going to be completely honest, it would have to be my inability to say 'no' more.
What do you think is the aspect of your role most neglected by peers?
Data driven insights – it's so important to get this right as it can be the sole decider between a campaign succeeding or failing.
Which word or phrase is your mantra and which word or phrase makes you squirm?
I would say that the phrase 'What got us here, likely won't get us there" would be my mantra. In terms of words that make me squirm, I don't really have any, although the use of too much marketing jargon can sometimes get under my skin.
What makes you stressed?
Being double or triple booked – there's always an important meeting that clashes with another and working through which is the priority can seem impossible at times.
What do you do to relax?
Swimming is something I look forward to in my day to clear the head and get a bit of exercise in whilst I'm at it. It's also where I do some of my best thinking.
What is your favourite song?
There's no way I could answer that questions – there's just too many!
Which book taught you most?
Good to Great by Jim Collins – I'd recommend it to everyone.
Do you have a team or sport that you follow?
I don't have a particular team but do enjoy watching road cycling when I have the time.
Which country would you like to work in?
None at the moment – what could be better than the Netherlands?
Which company do you think has the best marketing?
Nike would have to take that accolade – they have done some truly brilliant marketing over the years.
What do you love most about your job?
I love pushing boundaries, driving customer focus, the re-invention of an organisation, and getting to demonstrate the results that can only be achieved through hard work and sheer determination.
What is your favourite book?
The Great Gatsby
What keeps you awake at night?
Unanswered emails, texts, WhatsApps, Voicemails – so many things to do and not enough time!