Handheld Devices
Crowdsourcing Innovation: Jeff Batio, CEO & Founder, Idealfuture
Crowdfunding sites are offering a new path for inventors with original ideas. We talk to inventors looking to gain the public's favour...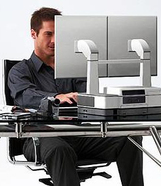 Name: Jeff Batio
Job title: CEO and Founder
Organisation: Idealfuture
Location: San Francisco Bay Area – Silicon Valley, California
Product: If Convertible; 3 devices, 2 screens and 1 data plan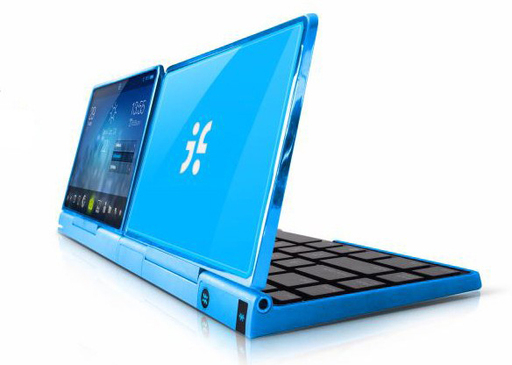 What it does & how it works?
The IF Convertible is a quad-folding and transforming handheld device that allows you to have a dual-display Windows 8 ultrabook for the ultimate in mobile productivity, combined with a full featured Android Phablet for when you want to work and play within a touchscreen interface. A full-sized touch keyboard, room for larger batteries and disc space, more ports, a stylus and a built-in Bluetooth headset all combine to create the ultimate in mobile technology.
What makes it special?
The IF Convertible is special for all of the reasons above of course but also and more so, because it is a device with the ability to have access to all of the major mobile technologies in one cost-effective and easy to use device. Beyond that it is very customizable from a usage and appearance standpoint. Our user-swappable Cliq covers allow you to change the look and feel of your IF as you see fit. Plus dare I say, it's just cool. People like things that transform and the IF sure does that.
What's your background, and what inspired you to come up with the idea?
I was the inventor, founder and CEO of Xentex Technologies, Inc., the creator of the original Flip-Pad Voyager. The world needs bold innovation, simplicity and advanced technology in one device not three or more separate devices. I was inspired because I cannot understand why in 2013 that we are still computing and being marketed technology that is only half-measures and does not truly simplify our lives but instead complicates them. For example, when you have to buy two sets of the same app in the iTunes store, one for your iPhone and one for your iPad, I feel that there simply has to be a better and more elegant solution. The answer for me is not more devices doing the same basic things, but one device that articulates and bends to what I need at the moment is what I feel the world needs…One device to unite them all, so to speak.
Why Indiegogo?
I feel that it is a superior platform to Kickstarter due to its flexibility and excellent customer service. Kickstarter is too impersonal and has no real involvement that I could discern with the projects and their creators.
Is Crowdfunding good for innovation? How so?
I personally feel that crowdfunding is ideal for innovation, because it allows someone to put their ideas before the world and get real-time feedback. It also allows individuals to focus on their products and innovation and not the investor gathering process. I truly believe that it will revolutionize and democratize the product innovation cycle as we know it.
Reactions on IGG so far?
The reactions have been very positive, but quite frankly we missed the mark by creating a very polished looking campaign instead of a more grassroots approach - which we are in the process of remedying with a new video.
What have you learned from your campaign so far?
As I mentioned, I think we did a fair job of addressing the "What is it" but the first thing that we need to address now is the "Who" of the campaign. In that regard, I have put together a series of websites to assist in growing the understanding that I am trying with all my heart to bring this technology to the world: www.idealfuture.com, www.xentex.com and www.jeffbatio.com
What's been the hardest part of integrating everything into one unit?
Actually time is on our side now. Several years ago, the IF Convertible would have been more akin to science fiction, but recent advances made by our peers in mobile technology have made it more of an exercise in component integration. When I built the first Voyagers, now that was cutting edge design.
During the development of the Voyager, we developed the very first wide viewing angle LCD panels, which were unheard of then but our design served as the basis for all displays you see on all smartphone and tablets today. We learned quite a bit about integrating everything into the chassis that more than correlates to the current smaller enclosure.
Would you describe it more as a tablet with a keyboard and phone, or a laptop with a phone and touchscreen capabilities, and which is it closer to in performance terms?
Great question! I view it both as a collapsible dual-display ultrabook and an expandable Phablet with a full-sized keyboard. The IF can actually rival the performance of both types of devices, depending on the format that the device is articulated into.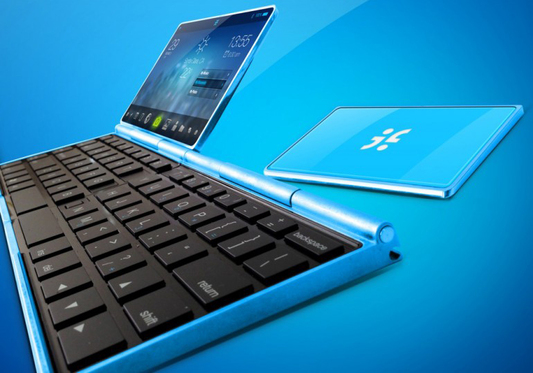 Other companies have tried to do part of what you're doing [laptops with removable tablet screens], why haven't any of the bigger companies tried this before?
Two reasons come to mind:
1. We have patents on this technology.
2. With all due respect to them, the other companies seem quite content with the status quo.
They must figure that it is easier to sell the same rectangular devices as do their competitors, rather than take a risk on innovating outside the box.
Though tablets & phones are outselling traditional PCs, they lack the power & productivity needed to fully replace them. Could the IF kill off laptops and possibly even traditional desktops?
My view is that we will always have two primary computing usage scenarios, 1) sitting down at a desk and 2) mobile, on-the-go computing. The IF excels in both arenas so it is quite possible. That being said, we have a planned multi-display docking station accessory in development called the Radian that works in concert with the IF to provide a reimagined system for the future of desktop computing also. The Radian can be seen on our website at www.idealfuture.com in the Products section. Combined, these two technologies allow you to have powerful, compact mobile technology that can merge seamlessly with a multi-display desktop dock.
Possible business use?
The business case for our device is actually quite strong. User/employee productivity skyrockets in a dual-display environment as much as 60% in some cases. This combined with the ability to truly multi-task and have access to a full-sized keyboard on the road will make mobile workers far more productive. Not to mention that you only need to purchase, carry and maintain one device instead of three and the IF cost far less than buying all three devices separately…Suddenly the IF starts to make a lot of sense to CEO's and CFO's (not to mention the CTO's) at corporations around the world.
Aims for the future?
The IF Convertible is just the beginning for idealfuture. As mentioned, we feel that we have reimagined the mobile device as we know them into one, singular platform that we all need to be carrying. Along with a reinvention of the desktop with our Radian, I humbly submit that we are just getting started. We will also work with the Crowd to hear their input and create a truly personalized customer experience for them. We feel that this point of view, when combined with our proprietary technologies, will make idealfuture a serious contender in the technology industry.