Human Resources
C-suite career advice: Corinne Sklar, Bluewolf, an IBM Company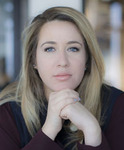 Name: Corinne Sklar
Company: Bluewolf, an IBM Company
Job Title: CMO
Location: San Francisco, USA
What was the most valuable piece of career advice that you received?
My most valuable piece of career advice comes from my art professors at Mills College, a renowned experimental arts school where influential artists such as Dave Brubeck and John Cage attended.
My professors taught me not to follow the rules and make my own rules; this was very impactful to me and has been my guiding light throughout my career. Marketing is about standing out–being fresh, creating something new that jolts you– and this advice has been imperative to the creative process for me and my team.
What was the worst piece of business advice that you received?
"We've always done it this way" and similar kinds of statements. Inertia is not at the heart of innovation today. Every business has the threat of being disrupted today: how you buy insurance, take a taxi or buy clothes. Inertia is the hidden villain inside of businesses that will hold them back.
What advice would you give to someone starting their career in the tech industry?
Have ideas and say them, every day. Tech is constantly innovating and new ideas are vital to transforming anything that you want. Even if you're in a junior role, make sure that your voice is being heard. Real innovation is driven by entrepreneurship and anyone can be an entrepreneur.
What tips would you give to someone aiming for a c-level position?
There are three tips that I would give them:
Make sure that you understand the financials. If you can't effectively articulate how the business is going to grow, then you won't be able to holistically address challenges.
Innovation drives business. Make sure that you're up to speed on technology and have ideas of how to disrupt your industry.
Because of our experience, we are regarded as de facto experts and are always giving our perspectives. In reality, we need to listen to the next generation and the customers. Take a step back and be an active listener.
Are you particularly proud of any career advice that you've given or the career route/development of anyone you've mentored?
One thing that I tell my team is that fear is good; it's good to have those butterflies in your stomach. That's how you challenge yourself to grow. That's where you find passion in your career.
I'm proud of everyone that I've been able to work with - from a team of 20 when I first joined Bluewolf to being acquired by IBM. Some members of our marketing team have been here for over 10 years. That's because they have accountability, they share, they have ideas, they speak their minds. I truly believe that Bluewolf has some of the best marketers in the technology space.