Human Resources
C-suite career advice: Duncan Tait, Fujitsu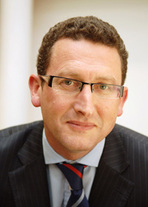 Name: Duncan Tait
Company: Fujitsu
Job Title: Director and Corporate Executive Officer, SEVP and Head of Americas and EMEIA
Location: London, UK

What was the most valuable piece of career advice that you received?
When I was a boy growing up in a small village in North Wales, I used to help my parents in the local newsagent. My mother and father drummed into me how important our customers were, saying that how we treated them was the advantage we had over the big competitors in the high street. I had an interest in computing so I was the one to implement the technology in the newsagent, and we designed it to ensure that it would help us to be best at putting our customers first. This lesson has stayed with me throughout my career – great service aided by technology gives you a competitive advantage.
What was the worst piece of business advice that you received?
I genuinely don't believe that I've ever had any bad advice. The job of any leader is to listen widely and carefully, and take all advice into the melting pot. You have to decide what is best and be accountable for your decisions. Bad advice can only have a harmful effect if you listen to advice without thought, and in isolation. If you listen widely, you can get a very accurate picture of the problems you face, and solutions will become clearer.
What advice would you give to someone starting their career in the tech industry?
Aim high and do a brilliant job of the very next project. This job and your next are always the most important – do well and make sure you really enjoy doing it. Also, always remember that technology must be a force for good and responsible business is very much a force for good. Wise use of technology is good for society and you have to keep that in mind every single day.
What tips would you give to someone aiming for a c-level position?
Do all of the above, always. Be ambitious and always try to make sure you understand your organisation's own unique system of getting things done. Revenue and profits are only a measure of how well you treated customers, how well you engaged employees, how well you partnered with suppliers and others, how much attention you paid to quality, and what contribution you made to society. These are the ingredients of long-term success and the more you pay attention here, the more profits will follow. Business is not here for financial outcomes only.
Are you particularly proud of any career advice that you've given or the career route/development of anyone you've mentored?
Recently a young graduate in Fujitsu acted as my aide-de-camp for a year. He was with me everywhere and what he saw inspired him to leave (much to my disappointment) and set himself up as a technology entrepreneur. Now, Nana Parry has already got third level funding and produced a technology platform for a global DJ (disc jockey) business, which is a surprisingly big and profitable sector. I like to think that what he saw was determination, focus and a can-do attitude that enabled him to think big and succeed.