Human Resources
Typical 24: Martin Cooper, Technical Director, Solidfire
IDG Connect is looking to speak to IT, business and marketing professionals across the spectrum to discover more about their very different, typical working days…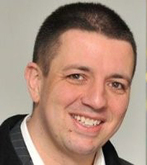 Name: Martin Cooper
Job title: Technical Director, International
Company: SolidFire
Location: England, London
Years' experience: 20+
1. What time do you reach the office each day?
8am
2. Is your job varied?
Yes
3. Is your job creative?
Yes
4. What do you spend the majority of your time doing?
Talking to my team and customers
5. Do you personalise your desk?
Not particularly, but that's because I work from home mostly and when I am in the office, I am generally out and about with clients and my team.
6. Would you describe yourself as creative?
Yes
7. Do you have any quirky daily rituals?
Not particularly quirky, but I always have a coffee first thing
8. Do you tend to work on your own or with colleagues?
Mostly with colleagues
9. How many hours on average do you work a day?
12
10. Roughly how much time do you spend each day on email? Taking calls? In meetings?
50% and then the rest is spent doing productive work.
11. Do you use social media much for work?
Yes
12. What do you enjoy most about your work?
There's a lot of variety and I'm also constantly in touch with an international customer base.
13. What type of music (if any) do you listen to at work?
I have an eclectic taste in music, so it differs, but I usually have something on in the background. Radio 6 is the normal soundtrack.
14. What do you do for lunch?
Eat!
15. Do you socialise with work colleagues?
Yes
16. Are there any tasks (through your career) you've been especially glad to get rid of?
Mindless process
17. What is your last task of your day?
One last check of email and IM
18. How do you like to relax after work?
Spending time with my family, a round of golf or cycling
19. Do you keep checking email through the evening?
Yes
20. Do you take work projects home with you?
I work from home mostly, so yes.
21. What would you say to your 20-year old self?
Get into the tech industry now, don't wait 15 years
22. If you could try out any job for a day, what would you choose?
Primary school teacher
23. What device did you use to answer these questions?
MacBook Air
24. Do you use your own personal device for work?
Yes