Human Resources
C-suite career advice: Alan Coad, Pivotal
We ask industry leading C-suite professionals for their expert career advice...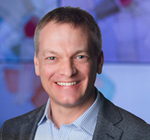 Name: Alan Coad
Company: Pivotal
Job Title: VP & GM EMEA
Location: London, UK
What was the most valuable piece of career advice that you received?
Consider the road less travelled and trust your gut. It's less predictable, for sure; scary, maybe; but this is the advice that opened the adventure of a lifetime for me when I had to make a snap decision to jump aboard an entry in the 89/90 Whitbread round the world yacht race. That saw me standing in Sao Paulo, Brazil with a suitcase with a remit to start a South American business, and took me on journeys with several startup's businesses to successful exits. Looking back, while not safe choices at the time, I wouldn't trade those experiences for any money!
What was the worst piece of business advice that you received?
To make a 10 year career plan! Life has a habit of throwing stuff at you that you can never plan for - even today I fight to keep time free in my calendar to allow for things that might happen or should be explored. This is particularly important in tech where change is the norm.
What advice would you give to someone starting their career in the tech industry?
Lean how to read and write code. Software is reimagining the world and every business is becoming, or about to become a software business.
What tips would you give to someone aiming for a c-level position?
Work hard, take responsibility, keep your eye on the big picture as you do your job so you understand your business and can anticipate any threats or changes that will affect it. Oh yes, and try using the word 'we' rather than 'I'. Leaders who build the best teams, who will go the extra mile, will not just find themselves at the top of the company, but at the top of the best companies.
Are you particularly proud of any career advice that you've given or the career route/development of anyone you've mentored?
I've mentored several individuals who now hold very senior roles in technology, including as CEOs for various companies. The ones I'm most proud of are those who faced massive life challenges and through sheer determination, and some support, lifted themselves from their situation…I'm thinking particularly of the office boy hired in Brazil, who came from the most disadvantaged background, yet went on to gain a qualification and is now pursuing a very successful career in technology.