Handheld Technology
C-suite talk fav tech: Edo Tealdi, NTT DATA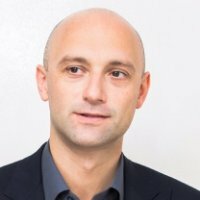 Name: Edo Tealdi
Job title: Managing Director, Digital
Company: NTT DATA
Industry: Professional Services
Location: London
Years' of experience: 20+ (wrote my first web page in 1994)
What is your favourite personal gadget?
I would have to say my iPhone. It is hardly ever more than a metre away from me, and rarely ever off. For myself, and a huge number of others, our smartphones are increasingly seen as critical to both our lives at home and at work.
Do you have a favourite piece of personal software?
It may come as a surprise. My personal favourite, and the piece of software I rely upon for building strategies for clients and structuring my thinking, is Excel. It's arguably the most robust, versatile and functionally rich piece of personal software ever built. I manage much of my life in Excel, and whenever I need to start something, from a blank slate, I open a new Excel sheet.
What was the first piece of technology you got really excited about?
My first computer: a Macintosh Plus, in 1988. It had 512KB RAM and no hard drive (you booted up from a floppy disk). It was the first piece of technology that made me realise the limitless possibilities available to us thanks to technological innovation. The whole universe opened up in front of me and truly sparked my passion for the industry.
What device improves your life most at work?
My iPhone is my gateway to the world, above and beyond the capabilities of my laptop. It keeps me connected to my family and colleagues, provides access to up-to-the-minute news and information, and delivers the tools I need to do my job on-the-go. Everything from voice, to text messages, to email and music… I couldn't live without it.
What software keeps you most productive at work?
Beyond Excel, Outlook is by far the tool I spend most time on. It serves as my primary medium of communication, and as the tool to organise my world.
For twenty years I have been hearing email is dead. However, to date, there hasn't been a convincing alternative. Hype for the likes of Messenger, Lync, WhatsApp, Slack, Evernote and Trello come and go, add some value, but remain somewhat niche to very specific use cases or user groups. Essentially, nothing has replaced email as a general purpose, inter-company, global standard. Its easy-to-use text and file distribution application with embedded diary management is invaluable and responsible for keeping many businesses and professionals organised during the working day.
I often joke that if someone were to build a revolutionary new app that aggregates one's WhatsApp, iMessage, Mail, Slack, Skype etc., all of which essentially do exactly the same thing, they would end up with a magical app called 'Outlook'!
Is there any technology that has become extinct that you would like to resurrect?
It's an interesting question, especially given the speed of change in technology now. However, the world moves forward and it is our responsibility to keep up. Things were not better in the 'old days', and if technology passed its prime or lost its following, it's probably because it was replaced by something better. Not accepting that is usually just a sign of resistance to change.
Is there any technology you would personally recommend that you don't think enough people know about? (Hardware or software, work or personal)
Having looked through my iPhone, from a personal perspective, I would really recommend the SeatGuru app. It's not just for frequent travellers, and it can really transform your experience to secure the best seats on long-haul flights!
With my professional hat on, I believe driverless cars are the single greatest innovation since the steam engine, and possibly even more transformative. In twenty years, no one will drive. That means they'll use that time to do other, more valuable, things. Driverless cars will change the way we live, work, travel and think. The transformation has possibly been unmatched for mankind since the first man sat on a horse.
Do you think anything about your personal use of tech would surprise your colleagues?
Given that I run a Digital agency, there is an expectation that I should be a tech enthusiast, investing in lots of gadgets and playing the latest games. Actually, I pride myself on being somewhat balanced in my use of technology. I think long and hard before I embrace a new device or trend. I have never played video games, never had a Fitbit, never had a smart watch, never had a kindle (I read paper books). I am a businessman so I use technology if it's good for my business. Also, I am a freelance photographer (something most of my colleagues don't know about) so I use plenty of photo editing tools!