Human Resources
Typical 24: Rob Pollard, iSIGHT Partners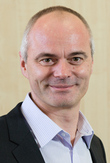 Name: Rob Pollard
Job title: General Manager EMEA
Company: iSIGHT Partners
Location: London, UK
Years' experience: 25+
1. What time do you reach the office each day?
There is no set time – particularly as it varies wildly where I work; airports, touchdown spots around Europe, trains. But the day is well underway by 8.
2. Is your job varied?
Absolutely. Building a business and a team means everything from customer interaction through to recruiting and go-to-market planning.
3. Is your job creative?
It has to be. Starting from a clean sheet of paper is a very exciting prospect.
4. What do you spend the majority of your time doing?
Prioritising.
5. Do you personalise your desk?
Nope. Because my desk has to travel around with me.
6. Would you describe yourself as creative?
I would. Not just within work too; in my spare time I enjoy drawing and working out how to fix all the things our horses keep breaking on the farm.
7. Do you have any quirky daily rituals?
Not really.
8. Do you tend to work on your own or with colleagues?
It varies. As we grow the business and the team, efficiency drives working separately, but with today's always-on world we're never far apart.
9. How many hours on average do you work a day?
Around 10 on average.
10. Roughly how much time do you spend each day on email? Taking calls? In meetings?
Working across EMEA through so many languages tends to result in many email conversations. I'd say 50% email, 25% calls, 25% meetings.
11. Do you use social media much for work?
Probably not as much as my marketing team would like! If Skype counts then that's a big part of our internal comms. LinkedIn is also an important network for me.
12. What do you enjoy most about your work?
The variety and the challenge of building a business.
13. What type of music (if any) do you listen to at work?
None at work.
14. What do you do for lunch?
Completely varies – depending on whereabouts I am. Anything from a sandwich on the run to lunch with a client. I prefer the latter!
15. Do you socialise with work colleagues?
Yes - working with a geographically dispersed team means that when we meet up it often includes an overnight stay or two, which is a great opportunity to grab a meal, a few beers and spend some time together. Similarly, when I'm with my US colleagues, many of whom I consider friends, it will be over a few days so a great chance to catch up out of hours.
16. Are there any tasks (through your career) you've been especially glad to get rid of?
Many years ago I had to clock in and out of an engineering role. I spent more time arguing with the time clerk about a missed hour that was lost through being a few minutes late. Rules for rules' sake have always been like a red rag to a bull for me.
17. What is your last task of your day?
Working for a US company, it's always checking for evening emails to make sure nothing needs addressing before turning in.
18. How do you like to relax after work?
Walking the dog around the farm.
19. Do you keep checking email through the evening?
Afraid so.
20. Do you take work projects home with you?
Work and home tends not to have a clear distinction.
21. What would you say to your 20-year old self?
Go with your gut - it's usually right. You're always going to want more but don't forget to enjoy what you have along the way. Get ready – you're going to have a blast.
22. If you could try out any job for a day, what would you choose?
Retiree.
23. What device did you use to answer these questions?
Laptop.
24. Do you use your own personal device for work?
Nope – the nature of my work means everything is tied down and strictly controlled by our IT team.