Human Resource Management
C-Suite Career Advice: Phil Worms, CMO, iomart Group plc.
We ask industry leading C-suite professionals for their expert career advice...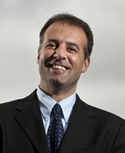 Name: Phil Worms
Company: iomart Group plc
Job Title: Chief Marketing Officer
Location: Glasgow, Scotland
What was the most valuable piece of career advice that you received?
The manager who had the greatest influence on my tech career was Garry Griffiths, a renowned former head of personnel for BT. He always said to me, "Be prepared to take risks and never, ever, lose your sense of humour." He was absolutely right. Don't limit yourself, take yourself out of your comfort zone and be prepared to suffer disappointment so you can learn and come back stronger. He delighted in his nick name ELF, which stood for Evil Little F*****, given to him by folks who just could not keep up with his speed of thought, work rate, passion and intellect. He never shirked from the tough decision but just as important he never shirked from making a decision. He taught me that making any decision is better than making no decision at all.
What advice would you give to someone starting their career in the tech industry?
I would give them two pieces of advice. First, leave any perceptions you have of an industry dominated by stereotypical male geeks behind and secondly, don't settle for a job you're not passionate about. Our industry offers a huge variety of roles from sales to HR to engineering and it remains very people-focused so soft skills are as important as technical ones. The tech industry is exciting, dynamic, fast-paced and ever changing so if you don't like change it's definitely not for you. Team working is essential as is the ability to communicate effectively. On starting out – connect - seek out mentors and spend more time with people than your iPhone or tablet. Use every available moment to learn about the sector because the more you learn the more you realise how little you know. And just as importantly, when you have time and are comfortable with your role, offer to help future talent get into the industry.
What tips would you give to someone aiming for a c-level position?
There is no single route to a C Level role or a perfect identikit for the ideal C Level candidate. Hard work, talent, career diversity and passion are all elements that contribute to successful C Level appointees. Business savviness, strategic thinking, exploitation of commercial opportunities, leadership and communication skills are as critical as technical competencies. A real granular understanding of the business and the sector in which it operates is essential. Technology is essentially an enabler for every business in today's world but it can only be effective if its architects know exactly what it is enabling.
Are you particularly proud of any career advice that you've given or the career route/development of anyone you've mentored?
I'm involved in many university career/employer engagement events and the main thing that always strikes me is the poor CVs presented by talented students. Most follow a dull template listing page after page of technical competencies and fail entirely to explain their suitability for the role. I've worked with a number of students on a one-to-one basis to bring out their character and personality in their CVs and I have never failed to get a buzz when they've contacted me to tell me they've been successful and have joined our industry.