Email Management
Crowdsourcing Innovation: Joshua Milas, Co-Founder of Mindsense
Crowdfunding sites are offering a new path for inventors with original ideas. We talk to inventors looking to gain the public's favour...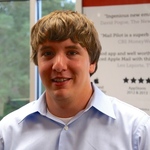 Name:Joshua Milas
Job title: Co-founder and President
Organisation:Mindsense
Location: Blacksburg, VA
Product: Mail Pilot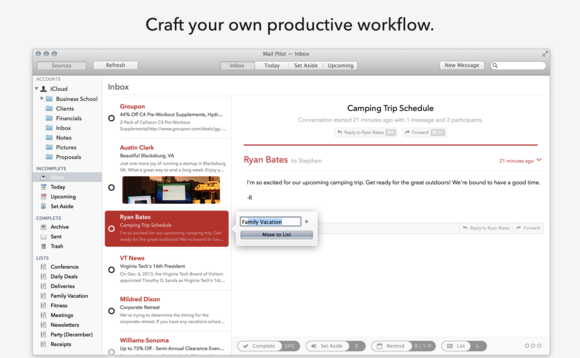 What it does & how it works:
Mail Pilot is an email client for Mac, iPhone, and iPad focused on making email more intuitive. Its simple, task-oriented approach allows users to quickly manage and productively organize their inboxes. Users can control their inbox with the Complete/Incomplete status, just like a to-do list. Users can also set a reminder for a message and Mail Pilot will prompt them when it's time to deal with it. Reminders free inboxes of messages that can't yet be tackled and ensures users that they will never miss a bill, meeting, delivery, or other due date again. Mail Pilot's other organizational features empower users to craft their own productive workflow and interact with email the way they already think about it.
What makes it special:
Mail Pilot is the email client reimagined from the ground up. We ignored all notions of common email clients, and we focused on how an email client could fit modern email workflows and uses. Realizing that all email messages are action-based, we developed Mail Pilot and its feature-set to empower users to use email in an intuitive and productive way.
What's your background, and what inspired you to come up with the idea?
We began a quest to improve the way people interact with email in Fall 2011. As a senior and recent graduate of Virginia Tech, Alex [Obenauer, Mindsense Co-founder & CEO] and I shared a disdain for the state of email. For several months, we embarrassingly competed to see who had the worst inbox.
When I won the competition with 10,000 unread messages and realized there would be no prize, we decided to quit complaining. There had to be other people experiencing the email dilemma, and if the big companies were refusing to innovate, somebody had to. So, we asked ourselves, "How can email be made simpler, more intuitive, and more productive?"
Email needed a fresh start. Ignoring all notions of common email clients, we assessed the essence of email. After some less than scientific research, we realized that all messages are action-based -- from deleting an advertisement to paying a cell phone bill -- and determined that email clients should complement this task-oriented workflow.
From there, we took Mail Pilot to Kickstarter, received 150% of our initial goal, and have launched 4 email clients in the last 2 years.
Why Kickstarter?
Kickstarter allowed us to accomplish three goals at once: validate our idea, validate our business model, and gain initial funding. It empowered us to gain a passionate following and fan base at an early stage. When it comes to reimagining email, we knew we couldn't do it without others on board.
Is Crowdfunding good for innovation? How so?
Crowdfunding is one of the best tools available to innovators today. One of the most important goals that crowd funding achieves is lowering the barrier of entry to acting on a dream. With little risk and general ease, an average person can create a crowd funding campaign for any idea. Prior to crowd funding, acting on these ideas was far more complicated.
What were the reactions on KS like?
On Kickstarter we were met with a lot of feedback. Two years ago this month, it was far more difficult to get people on board with action-based email. So many people, however, really got on board with the idea that the only way to fix email was to reimagine it from the ground up rather than continue adding additional features to a broken system.
What did you learn from your campaign?
Our campaign enabled us to learn a lot about the way people think about and use email. We learned that no single solution to email will ever fit the needs and workflows of everyone, we were also able to determine that the task-oriented approach to email resonated with a majority of those looking for change.
It's been a while since your campaign finished, what did you do with the money you raised?
We used the money we raised on Kickstarter for hosting, labor, and marketing. We frugally bootstrapped our way to a beta launch within 5 months. We intentionally sought the very minimum we needed to build the first public-ready Mail Pilot email client, and we were able to do just that.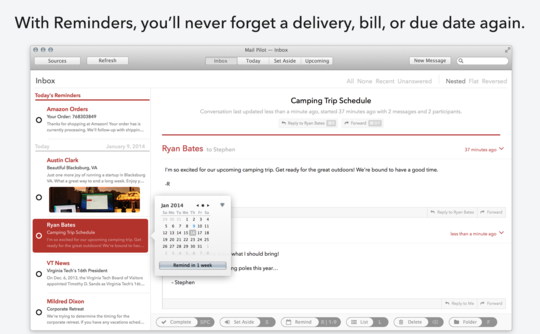 There's been much written about how email is 'broken', but will email ever actually be replaced?
I don't think that email will ever actually be replaced. The way people interact with email is definitely broken and the protocols themselves leave a lot to be desired, but the fact remains that email is an open, universal communication protocol. Sure, different communication platforms and services exist and have the potential to replace some functionality of email, but the widespread usage of email makes it very difficult to fully replace.
How hard is to get the balance right between making email more usable and simply adding more complexity?
It is incredibly difficult to make email more usable without adding more complexity. When we look at some other recent "innovations" in email, we realize that most of them are just adding more complexity. For example, labels are really just complex folders, Flags have no universally understood meaning, and automated filtering is often difficult to control. This is the reason why we ignored all preconceived notions about email when we ideated Mail Pilot. We never add a feature (new or old) to Mail Pilot without determining if that feature is actually solving the intended problem in the best way.
What's the tech/startup scene like in Blacksburg?
Blacksburg Virginia has a great tech/startup scene. With strong connections to Virginia Tech and Roanoke, there is a thriving community of entrepreneurs, learners, and thinkers. Genuine advice and support is just incredibly easy to find. There are far more startups and technology companies than we even imagined, and this is growing every day. We've intentionally remained in this community, and we can't wait to be a part of its future.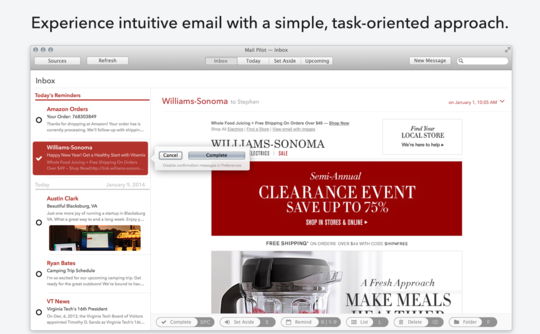 Possible business use/advantage?
Mail Pilot is already used by many business professionals. As a productivity application for email, Mail Pilot saves people time and stress when dealing with their daily messages. In the future, we plan to expand to fully integrate Exchange support to attract even more business use.
Aims for the future?
We set out to improve the way people think about and interact with email. Affecting change on the way people think about and use email remains our motivation to ideate, build, and deliver the future of email. We have plans to continue and expand on our current products. This year, we are excited to reveal something that we've been working on for over 2 years. Two years after our Kickstarter campaign, we remain excited to continue challenging the status quo of inefficient software.