Human Resources
Typical 24: Roger Keenan, City Lifeline
IDG Connect is looking to speak to IT, business and marketing professionals across the spectrum to discover more about their very different, typical working days…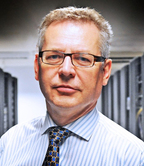 Name: Roger Keenan
Job title: Managing Director
Company: City Lifeline data centre
Location: Shoreditch, London, United Kingdom
Years' experience: Ten years
1. What time do you reach the office each day?
I aim to hit the office at around 8.45am every morning.
2. Is your job varied?
Yes, my role includes a wide spectrum of tasks, from meeting with customers to ensuring all our data centre technology is running at full efficiency.
3. Is your job creative?
Yes, very much so. In the data centre industry it's vital to have your finger on the pulse and creativity is central to responding to the latest business and technology trends. For example, when we decided to install a brand new power monitoring system in the City Lifeline data centre, it didn't take long to realise the systems already available weren't as in-depth as we required. We therefore worked with a programmer to build our own system which monitors exactly what we want, which resulted in the team being able to monitor power levels in real-time on our iPhones.
4. What do you spend the majority of your time doing?
The biggest single task I carry out each day is sending and responding to emails, although this of course depends on the amount of meetings and customer facing time in the data centre I have throughout the day.
I delete approximately 70% of my inbox without reading any more than the subject heading. This is usually enough to distinguish between the junk and irrelevant mailshots which fill my inbox from important actions I need to complete. The remaining messages are then sorted into separate boxes to simplify email management – nobody wants to be overwhelmed by their inbox.
5. Do you personalise your desk?
City Lifeline meets the ISO 27001 data centre security standards which require all belongings to be cleared from desks and locked away in cupboards and safes before going home, so personalising my desk isn't really an option. If I was to personalise my desk I would make sure there were photographs of my family and loved ones on it.
6. Would you describe yourself as creative?
Yes, I've had a long history of creating products and services throughout my career. One creative moment I'm really proud of would have to be the scenery moving system I designed for the National Theatre when I was a young engineer in the 70s and 80s. It was a huge project which I worked on for four years and resulted in the first ever computerised scenery moving system in the world.
7. Do you have any quirky daily rituals?
I have various daily rituals, although I wouldn't say any of them are quirky. For example, once I've had my morning coffee and organised my desk I write a 'to do list' before starting work. I've done this at the beginning of each day since I started in management. This is always written physically – it's much more satisfying to cross off completed tasks than simply deleting them from an online document.
8. Do you tend to work on your own or with colleagues?
It depends on the task – if I'm working on sales I'll always be working with colleagues, whereas data centre admin tasks will inevitably see me alone in my office with my head down.
9. How many hours on average do you work a day?
I work approximately seven hours a day on average, plus around two and a half hours commuting. Ten years ago when I was much more hands on I remember starting in the data centre at 8am and finishing at midnight. In the data centre industry if major technology changes are required there's no choice but to stay until the task is completed.
10. Roughly how much time do you spend each day on email? Taking calls? In meetings?
I spend far too much time on email, probably around a third of the working day actually. Meetings take up approximately two hours, while calls are another hour or so.
11. Do you use social media much for work?
I find myself using LinkedIn most days, especially before meetings as it significantly reduces the strain of preparation. Finding out more about who you're meeting, their career background, an overview of the business they represent and their relationship to the data centre industry, makes a huge difference.
12. What do you enjoy most about your work?
Definitely the variety – knowing no two days are ever the same is very satisfying. On any given day I am involved in business operations, technology and customer facing meetings, rather than simply focusing on one area for a sustained period of time. I am involved in most key decisions at the City Lifeline data centre, so I have an overview of all activity taking place but not in detail as there isn't the time. The only tasks where I am involved from start to finish will be drawing up contracts and strategic decision making.
13. What type of music (if any) do you listen to at work?
We have an open plan office so we don't really have any music playing, although if we did I do love a bit of classic rock.
I used to run a business which manufactured professional audio equipment so was very into watching rock bands live. The final Pink Floyd concert at Earls Court in 1995 is a particular highlight, it's great to be able to say my son and I were there.
14. What do you do for lunch?
Being in a data centre in Shoreditch, in the heart of Tech City, there is a wide variety of sandwich shops and cafes nearby so I'm spoilt for choice. I'm quite traditional in my choices and although I deliberately aim for a variety, my two favourites are either a BLT or a cheese sandwich, as there's an excellent cheese shop at Liverpool Street Station.
15. Do you socialise with work colleagues?
Yes, we have company lunches once a quarter which are always fun. We enjoy good quality restaurants such as the Anima which is a great Italian near the data centre.
We aren't the type of company which clocks off at 5.30 and heads to the pub though, as most of the office commutes from outside London and have families to get home to.
16. Are there any tasks (through your career) you've been especially glad to get rid of?
Although I can't think of a particular task I'm glad to be rid of, there was a nine month period where I was commuting from Leighton Buzzard to Los Angeles every two weeks during my time at Teletrac as its interim UK chief executive. Unsurprisingly, I was jet lagged almost the entire time – I'd spend the first week catching up, the second week working at full capacity and then the following week jet lagged again after flying back to the UK.
17. What is your last task of your day?
Clearing my desk and locking up my personal belongings before leaving, to ensure the data centre continues complying with ISO 27001 security standards.
18. How do you like to relax after work?
Once I get home I enjoy a family meal before relaxing in front of the television. I'm currently watching Breaking Bad, so that is taking up my evenings right now.
19. Do you keep checking email through the evening?
On an occasional basis, although I don't spend my entire evening looking at my emails. If I'm working with partners in the US then I may need to be more vigilant but usually I am able to switch off.
20. Do you take work projects home with you?
I make an effort to not take work home with me, although I do sometimes work days from home as it's inefficient to commute to London to the data centre when working on something like a spreadsheet that requires focused attention. I average one day a week at home and when I do I aim to finish at 5.30pm.
21. What would you say to your 20-year old self?
I'd tell myself to concentrate on the social and political elements of work rather than focusing purely on the technology.
22. If you could try out any job for a day, what would you choose?
If the world was my oyster, I'd love to fly an Airbus A380. I used to have a solo glider pilot license but I've never tried anything this adventurous, so I'd love to if I was given the chance.
23. What device did you use to answer these questions?
My phone.
24. Do you use your own personal device for work?
No, I have a company PC, laptop and mobile phone so all comms devices are provided. If I work from home I use my own devices, although I VPN into our servers in the data centre at City Lifeline.