Healthcare
Gifted Mom: Cameroonian app to promote antenatal care
The growth of the startup scene in Cameroon has tapped into several sectors from gaming to e-payment and healthcare. Within the healthcare sector, startups like Cardiopad and digitalMedlab have the potential to be game-changers. In a similar manner, Gifted Mom is full of potential to be a game-changer for antenatal care.
148 infants die per every 1,000 live births in Cameroon, giving it the 18th highest mortality rate for children under five in the world, according to UNICEF. With a projected population growth of 52%, estimated to reach 33.1 million in 2030, the United Nations Population Fund predicts 1.4 million pregnancies per annum, increasing the number of pregnant women and new-borns at risk.
This could be about to change though, thanks to a 23-year-old engineer called Alain Nteff. The youngest participant of the 2015 World Economic Forum, he has co-founded a platform and app that uses low cost technologies to improve the health conditions of pregnant women and new-borns in underserved and disconnected communities.
The service provides automated SMS alerts to subscribers and helps individuals track their own antenatal care. Gifted Mom also works with health providers and medical students to create profiles for pregnant women.
It all started in 2012, when Alain Nteff visited his friend Dr Tankou Conrad. He observed that several mothers and new-borns die from conditions that could have been predicted and managed with proper antenatal care. He was deeply affected by what he saw and alongside his friend Dr Conrad, started working on ways in which they could use their skills to alleviate the issue of maternal and infant mortality. Afterwards, Alain participated in a workshop organised by Harambe Cameroon, which guides entrepreneurs in project development.
This led to the creation of a platform which sends SMS notifications to pregnant women. All users have to do to subscribe is text "mom" to 8006. The platform then sends notifications about vaccination and other pregnancy related facts and allows women to ask questions and get advice via SMS. The team started with a test phase in the North West region of Cameroon and later partnered with medical students on a health campaign trip to the South West region, where they had 1,200 registered women.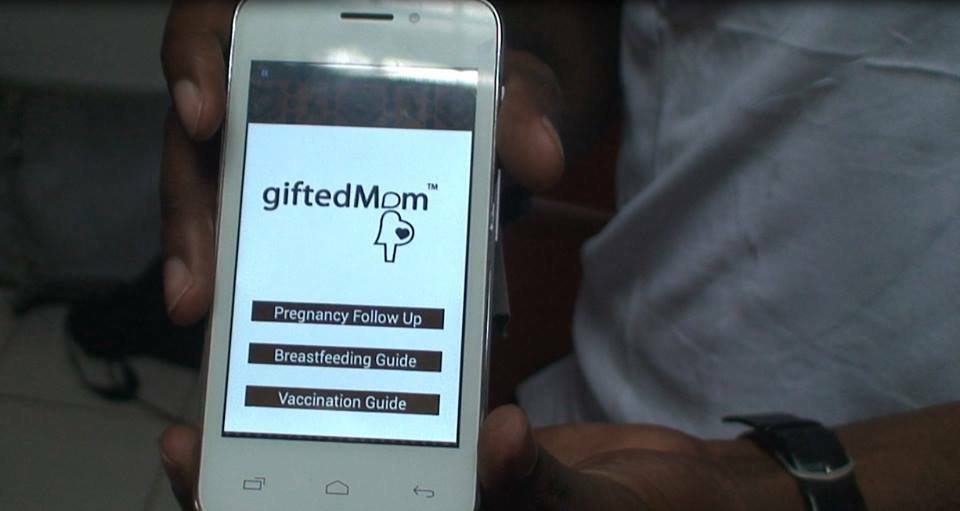 In 2014, Nteff won the Anzisha Prize for young entrepreneurs (the $25,000 prize is sponsored by the MasterCard Foundation and managed by the African Leadership Academy). This led to a lot of exposure for Gifted Mom and in turn saw Nteff's participation in the World Economic Forum at Davos.
Nteff says this gave him the opportunity to tell the world that "the problem of mother and infant mortality is not just a woman's problem, but a human one and everybody should be part of the solution".
Later on, Gifted Mom gained partners and sponsors in Nestlé and Lenovo, which has provided them with six computers. They intend to use these to create kiosks in hospitals.
Thus far, Gifted Mom employs six people at its HQ in Yaoundé, as well as five community workers, who work closely with about 15 hospitals.
Nteff's vision for Gifted Mom is clear. He wants the startup "to change the experience of pregnant women and mothers through low cost technology". He also intends to develop new technologies which will bring basic healthcare access, not just to pregnant women and mothers, but also to people living in poor communities. At this point, the startup has been able to raise $37, 000 and one of the biggest challenges the team faces is integration into bigger hospitals.
From an initial eight subscribers, the Gifted Mom community has rapidly grown to about 2,100. And Nteff hopes to have an impact on the lives of 50, 000 mothers by the end of 2015 and millions of others across the continent by 2017.
As with other startups, the potential is huge and the path to attaining game-changing dimensions at a national and international level is not an easy one. Nevertheless, Gifted Mom is already changing the experience of pregnant women and mothers in an impressive way despite its limited resources.