Analytics Software
Hitachi doesn't need 'Pre-cogs' to predict crime
Although it's not as sexy as Tom Cruise's 2002 film Minority Report makes out, we are now in the era of predicting crime before it happens.
Thanks to the rise of big data and cloud computing, the nascent crime analytics software market is now worth something in the region of $5 billion a year, and has a variety of players in the scene including London's Wynyard Group and California's PredPol, as well as others such as Palantir and BAE Systems.
"Although it's still very much in its infancy now, we believe predictive analytic models like this will soon become the norm for law enforcement," says Darrin Lipscomb, Senior Director and CTO, Public Safety and Visualization at Hitachi Data Systems. The Japanese company recently announced its own foray into the "pre-crime" space with its snappily-named Hitachi Visualization Predictive Crime Analytics (PCA) software.
Where many solutions simply look at historical crime data, the cloud-based HDS PCA system brings in a variety other factors in real-time to help predict where trouble may occur. "We pull historical crime data (at least two months) that includes location, date/time and crime type. We can then integrate with any geotagged data e.g., weather, metro locations, neighbourhood locations, social media, any variable where there may be a correlation (cause and effect) can be leveraged."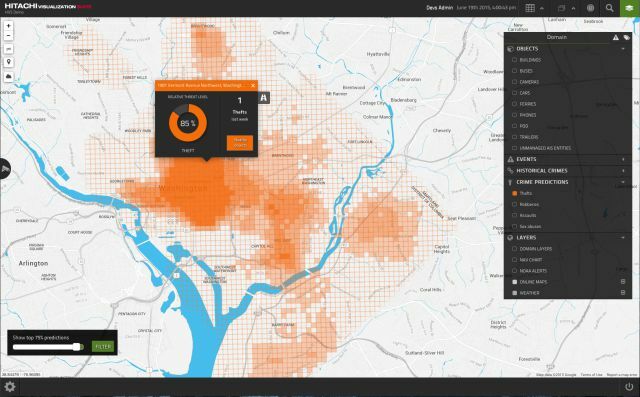 With a "virtually unlimited" amount of potential data points, PCA uses machine learning to process –– and decide the importance of – hundreds or thousands of variables that would overwhelm even the smartest human. "The algorithm is very good at assigning weights to all of the variables based upon periodicity and proximity. Instead of using 'guesses' for what impact a particular variable has to crime, the software uses statistical regression in order to identify underlying risk factors."
Part of Hitachi's smart cities portfolio, there are several major US cities interested in deploying proof of concepts, which will be announced after further testing. "The majority [of other crime analytics vendors] use a more rigid model based on what's called 'self-exciting point presence.' These are similar to the models used to predict earthquakes," he explains. "Our approach is unique in that we identify underlying risk factors, which is critical to understanding what's driving particular crime types in specific areas of a city."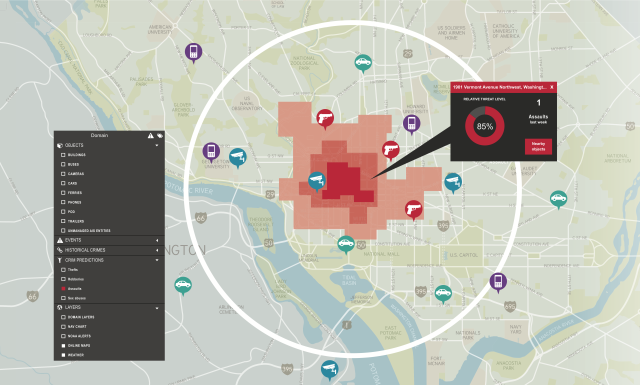 Probably sick of the comparison by now, he is keen to distance himself from Philip K. Dick's creation and the idea of SWAT teams swooping into people's homes while they eat breakfast for something they haven't yet done. "Minority Report was obviously fantasy science fiction. Their system relied on fictional clairvoyant 'Pre-cogs' that could identify individuals that would commit a crime before they did it," he says. "Beyond obvious lack of a precognitive component, our system doesn't target individuals, rather it identifies places and times in which a particular crime type is most likely to occur. Hitachi's approach is about using intelligence to position patrols in the right place in order to prevent or reduce crimes from occurring."
Considering its massive array of offerings – from storage and home electronics to CCTV, air conditioning and engines, it's little surprise that Hitachi is making a big play to help promote smart cities of the future become a reality. "It is Hitachi's mission – and we believe, our responsibility – to develop the tools and technologies that can help make smart cities a reality."
To help drive this push, the company has acquired the likes of Avrio, Pantascene, oXya, and Pentaho over the last couple of years. Despite the impressive and futuristic nature of these new smart city initiatives, Lipscomb admits that it ultimately still requires government bodies to manage them well. But he does feel his company is helping them achieve this. "We are also committed to partnering with our customers to help them make best use of those tools and to ultimately deliver a successful outcome. We have to ensure we are creating systems that are simple to deploy, configure and maintain, and the software needs to be flexible enough to adapt to ever-changing processes."