Human Resources
Typical 24: Rick Biggs, FICO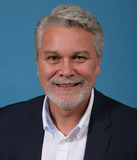 Name: Rick Biggs
Job title: Deputy Managing Director
Company: FICO
Location: Home (UK), London (UK), EMEA
Years' experience: 33
1. What time do you reach the office each day?
It depends on where I am. If I'm working from home typically 7:30, if I'm at my London office it's somewhere around 8:45am.
2. Is your job varied?
Incredibly. My day runs from team management, mentoring and supporting my direct reports, to dealing with resourcing customer projects, logistics such as travel and office space allocation, communicating and engaging with my peers across EMEA and the US, reporting on results and forecasting against revenue targets for the immediate and upcoming financial quarters and the next fiscal year.
3. Is your job creative?
Invariably. I work in a fast-paced industry and my role covers a large geographic territory (EMEA), which demands that I can operate across geographies, cultures and languages (although I am not multi-lingual). Very often I have to be creative and think laterally in order to come up with solutions that may be very specific to one client, one country, or one culture. This also means working with internal teams across the same territory, which can bring other challenges. Of course, one of my main duties is to drive revenue and therefore sales — success demands creativity as we are not selling commodity solutions.
4. What do you spend the majority of your time doing?
Sales management and team management, commercial contract development and deal closure.
5. Do you personalise your desk?
Only at home, as this is the only permanent desk that I have. I travel extensively across our office network in EMEA and very often my 'desk' is an airport lounge, a plane/train or hotel room.
6. Would you describe yourself as creative?
Yes, I would. FICO has a vast array of solutions and products, so in order to be successful I have to first of all understand and identify what our customers and prospects require (to solve a business problem or to create new business opportunity for them). This means that I must be able to consider and develop a solution that will resonate with them and then identify and weave in our solutions and products. Often this means that I must combine a set of solutions to be deployed in a different way that meets the client or prospect's requirements. I also enjoy working and collaborating with our internal marketing team in terms of lead generation, marketing events (internal and external) and creating FICO brand awareness.
7. Do you have any quirky daily rituals?
Not as such, although my partner would probably describe me as somewhere on the OCD spectrum! I tend to have a pattern in terms of when and how I do things, but I'm not sure if I would describe these as "quirky". If I am at home, I guess my quirkiest daily ritual would be to go and have a few minutes with each of my horses to catch up.
8. Do you tend to work on your own or with colleagues?
Both
9. How many hours on average do you work a day?
12
10. Roughly how much time do you spend each day on email?Taking calls? In meetings?
5 hours. 5 hours. 3.5 hours. Often I'm doing all of these at the same time though.
11. Do you use social media much for work?
Only Linkedin.
12. What do you enjoy most about your work?
Revenue creation. I enjoy the chase and the win. In particular, I like to create deals and then execute them. I particularly enjoy commercial and contract negotiation (I am somewhat of a wannabe lawyer, a career I almost pursued), team management and mentoring. Although I am competitive, I find as I am getting older that I am really enjoying developing and mentoring my team, especially my senior direct reports, who are somewhat younger than me. It brings a sense of pride and residual success when they are confident and successful.
13. What type of music (if any) do you listen to at work?
None.
14. What do you do for lunch?
Usually a sandwich at my desk.
15. Do you socialise with work colleagues?
Yes, I have a network of peers and we have all grown up together in the business. I have travelled extensively with this team and that creates deep friendships, which in some cases have extended to our partners and families. I feel lucky to count on some of my colleagues as true friends that I know I will have for the rest of my life.
16. Are there any tasks (through your career) you've been especially glad to get rid of?
Early in my sales career I didn't really enjoy cold calling. I learnt a lot from it but was glad to move on from this stage in my career to work with and focus on a specific industry and customers.
17. What is your last task of your day?
Check and respond to critical emails.
18. How do you like to relax after work?
A glass of wine, driving my tractor (not at the same time), socialising with friends, and cooking for friends and family when I have the time (and I'm at home).
19. Do you keep checking email through the evening?
Yes!
20. Do you take work projects home with you?
Yes.
21. What would you say to your 20-year old self?
Focus, work hard, apply your energy constructively, have fun. Most importantly push yourself to do the stuff that you find difficult – invariably this is the most rewarding and will shape your career.
22. If you could try out any job for a day, what would you choose?
CEO of the Virgin Group of Companies.
23. What device did you use to answer these questions?
My laptop.
24. Do you use your own personal device for work?
Yes.