Human Resources
Millennials talk careers: Emma Thompson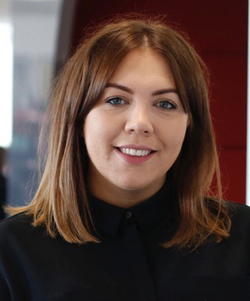 Name: Emma Thompson
Age: 27
Education: First class BA honours in Business and MSc masters in Management
Current role: Online marketing strategy manager at leading ecommerce and digital agency Visualsoft
Ideal role: Remaining within the digital/tech industry within a strategic account director role to lead and inspire others
Are the stereotypes about millennials true?
The common stereotypes about millennials being lazy or constantly job-hopping are far from the truth in my experience. I've worked alongside many millennials, whilst in education and in my career to date, and the majority have been hard working and career driven.
Some of whom have also been great mentors, and I've learnt a lot from them. I think there should be more opportunities given to millennials to allow them to inspire and advise others, as I wouldn't have progressed to where I am now without that kind of support.
Millennials have grown up in an increasingly online and connected world, and while some may say this has made them lazy, it actually gives them an opportunity to learn and innovate. I'm extremely self-motivated and passionate about the latest technologies and digital trends, and this is a great advantage in my role.
What benefits most attract you to a new position?
Progression and opportunities to develop my skills and knowledge are extremely important to me. I'm also attracted to companies that offer flexibility in the job and a fun, social element too. It's important that companies look after their staff and offer a wide range of employee benefits.
In the long term which of the following is most important to you? (Please explain why?)
Career development
Work/ life balance
Salary
In the long-term, salary will definitely be most important to me, as I'd feel a huge sense of personal achievement as a high earning female within the tech and digital industry.
However at the moment I'm motivated by career development, as I'm keen to continuously improve on my knowledge and skills to further add to my experience. I want to be able to inspire and lead others, both now and in the future.
What do you think most companies are getting wrong when hiring/ retaining younger workers?
In terms of hiring younger workers, personally, I think it's important to look beyond the experience. Not all young workers will have lots of experience when they start out, but they could still make an exceptional candidate. Everyone must start somewhere. Their drive, determination and motivation to succeed are equally as important factors, and should be considered during the recruitment process. It's not just about experience.
When it comes to retaining younger workers, some companies are not tailoring their retention strategies and employee benefits to this age group and tend to adopt a one-size-fits-all policy. I think it's important to have perks and benefits that suit younger workers and speaking from experience it's a great way to retain them.
Looking back, is there anything you'd change about the route you took to your current career?
I'm looking to take up a graphic design course in my spare time to add to my qualifications, and I wish I'd done it sooner. Having strong creatives and visual assets are becoming increasingly more important to online marketing campaigns, so I wish I'd considered this skillset earlier down the line. Having an eye for design and creativity will be a huge benefit to my strategic role.