Human Resources
Typical 24: Jon Topper, The Scale Factory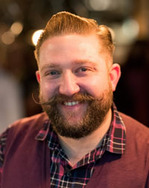 Name: Jon Topper
Job title: Co-founder / Principal Consultant
Company: The Scale Factory
Location: London, UK
Years' experience: 15
What time do you reach the office each day?
Typically I arrive between 9.30 and 10.30. I commute by boat along the Thames, where there's room to open a laptop, and catch up on email or paperwork.
Is your job varied?
My job is quite varied - as well as technical work, I have team management, consultancy and sales commitments, so that keeps me on my toes.
Is your job creative?
Not in the same way it would be if I was an artist, but an amount of creative thinking can be involved from time to time.
What do you spend the majority of your time doing?
At the moment, as a growing business, I spend a lot of time on sales and business development - which mostly takes place by email.
Do you personalise your desk?
A little. I have a crocheted Strong Bad amigurumi doll that was a gift to me, but not much in the way of other personal items.
Would you describe yourself as creative?
I'm pretty sure this is a creative way of asking the same question twice :)
Do you have any quirky daily rituals?
I wouldn't say so, I'm fairly straightforward :)
Do you tend to work on your own or with colleagues?
I have my own tasks which I get on with throughout the day. I often advise other colleagues on their own work, as part of my team leadership role.
How many hours on average do you work a day?
I try to stick to 8, but in busy periods this can be more like 10. I try to model good work/life balance for the rest of the team, as I don't believe anyone can push themselves constantly to work longer hours and still deliver good results, and it's certainly not good for the health.
Roughly how much time do you spend each day on email? Taking calls? In meetings?
Most of my time is email at the moment.
Do you use social media much for work?
I run most of the social media accounts for the business, which update periodically with bits of news about the business and industry. Beyond that, the DevOps community has a strong Twitter presence, and I tend to engage with that through my personal twitter account.
What do you enjoy most about your work?
I enjoy the fact that we've built a team of smart, personable people. Collaborating with the team is always a pleasure.
What type of music (if any) do you listen to at work?
We always have BBC 6 Music on in the office. If I need to get my head down and concentrate on something tricky, I'll fill my headphones with complex electronic music, or some prog rock.
What do you do for lunch?
The office is right by Borough Market, and so we have access to a range of good food options. I'm quite a foodie in my private life, so that really appeals.
Do you socialise with work colleagues?
Because the team is predominantly either remote, or working at client locations, we don't socialise as much as we might otherwise. We arrange for everyone to be in London once every couple of months, and we have drinks and dinner then. I'll sometimes grab an after-work pint with a colleague if we've been working together in the office during the day.
Are there any tasks (through your career) you've been especially glad to get rid of?
I find writing quotes and statements of work quite dreary, so I'm always glad when I have the opportunity to hand those off.
What is your last task of your day?
I usually take a last look over my inbox before heading out for the day, to pick up anything that came in during the day.
How do you like to relax after work?
My main non-work passion is cooking, and I find that creating a meal is a good way to relax.
Do you keep checking email through the evening?
My phone still pops up alerts for new mail throughout the evening, but I generally don't pay much attention to them. In all honesty, I should probably turn them off.
Do you take work projects home with you?
As my day to day work has become less technical, I have been known to bring pet tech projects home with me so that I don't get too far away from the technology.
What would you say to your 20-year old self?
I'm not sure I'd say anything - my 20-year old self wouldn't care to take my advice :)
If you could try out any job for a day, what would you choose?
I'd quite like to try movie director out for a day.
What device did you use to answer these questions?
My MacBook Pro
Do you use your own personal device for work?
All my personal devices are, strictly speaking, owned by work - it's more tax effective for a business owner to buy hardware through the business.