Human Resources
Typical 24: Richard Gadd, Hitachi Data Systems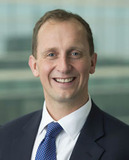 Name: Richard Gadd
Job title: SVP & General Manager, EMEA
Company: Hitachi Data Systems
Location: London, UK
Years' experience: 20+
1. What time do you reach the office each day?
I tend to reach the office between 7:30 and 8am.
2. Is your job varied?
No two days are the same at Hitachi Data Systems (HDS) and actually I enjoy the variety. In reality it's important to find the right balance between predictability and variety at work.
3. Is your job creative?
Most of what we do as a leadership team is to think about how HDS can evolve and improve our go-to-market strategy in a rapidly changing environment, and this requires a great deal of creativity. I also like to use creative ways to manage processes and improving operational excellence.
4. What do you spend the majority of your time doing?
I spend most of my time meeting and speaking with our customers, as well as colleagues within the business – both in the UK and across the rest of the world.
5. Do you personalise your desk?
My desk is personalised with pictures of my family, as they are my primary source of motivation.
6. Would you describe yourself as creative?
Yes, it's essential with the nature of the job.
7. Do you have any quirky daily rituals?
Not really, although I tend to re-use the same bank of jokes on a repeated basis until someone finds them amusing!
8. Do you tend to work on your own or with colleagues?
Always with colleagues, I try to avoid my own company!
9. How many hours on average do you work a day?
It's so variable – no two days are the same.
10. Roughly how much time do you spend each day on email? Taking calls? In meetings?
It varies from day to day, although I try to avoid email as much as possible; I find it a productivity drain and I think people have a tendency to hide behind it. I also think that you lose some of the art of communication just over email – you're losing that face-to-face communication with people that's really important.
11. Do you use social media for work?
I do have an extensive LinkedIn network and I also use Twitter, but I'm not on Facebook.
12. What do you enjoy most about your work?
That's an easy one: the people and the customers.
13. What type of music (if any) do you listen to at work?
I love music and have quite a wide and varied taste – I'll listen to everything from Frankie Valli and the Four Seasons and Hot Chocolate to Maroon Five, Snow Patrol and what's in the charts.
14. What do you do for lunch?
I tend to eat on the go, I rarely stop for lunch unless it's with customers.
15. Do you socialise with work colleagues?
Yes – I think it's important that you build a strong relationship with work colleagues.
16. Are there any tasks (through your career) you've been especially glad to get rid of?
Writing letters.
17. What is your last task of your day?
I don't have a certain thing that I do last at work, but I always phone my wife to say I'm on my way home.
18. How do you like to relax after work?
My perfect evening would involve a nice glass of wine and relaxing with my family.
19. Do you keep checking email through the evening?
Sadly yes I do.
20. Do you take work projects home with you?
Whilst I try not, to I often find that there simply aren't enough hours in the day so inevitably I end up taking projects home.
21. What would you say to your 20-year old self?
Just to enjoy it – part of the fun in life is discovering for yourself and making your own way. And definitely make the most of having a full head of hair!
22. What device did you use to answer these questions?
My work MacBook.
23. Do you use your own personal device for work?
No I don't, everything I need is provided by the company.