Handheld Technology
Post Crowdfunding: Can a "grippable computer" transform how we work?
TREWGrip has had something of a tumultuous journey. When we first spoke to founder Mark Parker, he described his mobile-docking-station-come-keyboard as a "two-handed mobile and ergonomic data-entry device that changes how we work and interact with everything from mobile devices to Smart TVs."
The Cincinnati, Ohio-based startup launched it eponymous device on Kickstarter in late 2013 with plenty of fanfare, but little success, and raised barely a quarter of its $100,000 goal. A short time later, and following a stellar showing at CES in 2014, Tech Hive's Mark Hachman described it as something "iPads dock with when drunk" and a "conversation starter at coffee shops", albeit one that could be genuinely useful.
And then? Well not much. The TREWGrip wasn't ready to ship and the hype from CES passed. Another showing at 2015 CES failed to garner the same level of interest and things went quiet. However, in July the company finally started shipping R&D kits to developers and testers, and is also working on a "grippable computer" for mobile workers "that has the productivity benefits of a laptop and the mobility benefits of a tablet".
We caught up with Mark Parker again to reflect on the highs and lows of Kickstarter and CES, and when we'll start seeing his devices in hospitals.
Your Kickstarter campaign wasn't a success – how did you feel at the time, and where do you think you went wrong?
Failure is a part of the innovation process. A successful Kickstarter campaign would have been great, and we obviously didn't set out to fail, but what we learned from test marketing/selling TREWGrip at an early stage has proven to be extremely valuable. So, what did we learn?
If we target consumers, we will be competing on price. Consumers are accustomed to spending less than $100 for a keyboard, and their expectations were that it should sell for less than $100.
We also learned, that with a device like TREWGrip we had to get it into people's hands. It's one thing for people to see pictures, or watch videos, but it's another to actually let them see, touch and use the physical device.
What's happened with the company since then?
We started the company in 2013 to research, develop and commercialise a two-handed mobile device to fill the mobile productivity gap between laptops and tablets. We have completed a lot of the R&D, and are currently focused on commercialising the Mobile Dock unit.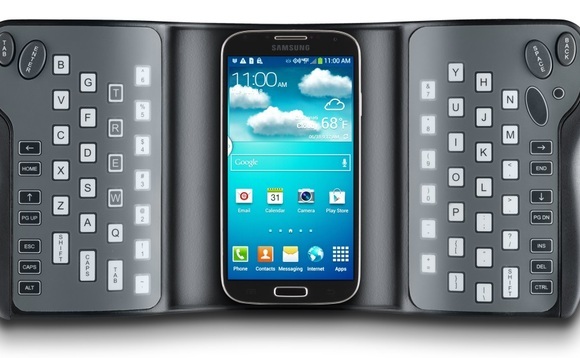 Has the product changed much since 2013? Any challenges in development?
The shape and size of the unit has not changed much since the initial wooden model. What has changed significantly is the switch technology. The unit we introduced in 2013 had silicone keypads that were unreliable. We then went with mechanical switches, which were much more reliable but considerably more expensive. The production unit has silicone membranes and hard plastic keycaps.
Would you run another campaign in the future, with this product or another?
Not with the Mobile Dock, but maybe another product. Crowdfunding platforms are great for test marketing/selling a product because you can get an enormous amount of real feedback at an early stage without spending a lot of money. And if your campaign is unsuccessful, there is no obligation to deliver a product.
Have you received any external funding? Is it something the company is interested in?
Yes. There are currently seven private investors, and we are looking for three additional [ones]. We have already raised $1 million, and intend to raise another $750K before the end of March to close out this round. The biggest challenge with raising capital has been finding "smart money." We are looking for investors with an appetite for hardware, and the experience and/or ability to contribute more than money.
You got a lot of coverage at CES 2014 & 2015 – how did that help the company?
CES 2014 was both a blessing and a curse. The decision to exhibit was based on what we had learned from the Kickstarter campaign. We felt like we had to get TREWGrip into people's hands, and let them see and touch it. We were right, and the attention we received was unbelievable. The attention also led to certain financial and strategic partnerships, and gave us a clear understanding of the potential for a device like this.
The curse was obviously that we didn't have a product to deliver, and that we couldn't take full advantage of the attention that we had received. We exhibited at CES 2015 in an attempt to maintain some momentum with consumers, but by the middle of 2015 when we started delivering units, most of that momentum was gone.
Research & Development Kits became available in in the middle of 2015, feedback so far?
We made the decision to sell the Mobile Dock as part of a research and development kit for several reasons. The first is that our production costs are quite high, and the average consumer's retail price expectations are quite low. The second is that a very high percentage of the early sales are coming from educational institutions and companies wanting to explore the device's potential. The third is that we actually designed the Mobile Dock unit to be a high fidelity prototype, a unit that people could use to try, or experiment with rear-typing using existing technology platforms.
Overall, the feedback has been very positive. We are working with a number of companies that are looking at TREWGrip as a way to create a sustainable competitive advantage for their field workers, and are designing and building enterprise mobility apps to complement its unique features. There are also numerous universities that have purchased R&D kits to determine and/or measure TREWGrip's ergonomic/health benefits. In both cases, it will likely be another 12 to 18 months before these companies start using them in the field, and universities start publishing the results of their studies.
Can you talk about how many units sold, or revenue?
On the "consumer side," the majority of units sold are to people with physical disabilities or medical conditions. I can't share actual sales numbers, but we've sold enough units to justify establishing distributorships in the assistive technology and ergonomics markets. Ergo Works is our first US distributor, and ErgoCanada is our first Canadian distributor.
Our focus as a company is on enterprise mobility, and working with developers and early adopters to build complementary solutions. Although I can't share the names of the companies, or number of units that have been sold, I can tell you these companies have already tried outfitting their field workers with tablets and/or laptops, and they're just not seeing/experiencing significant productivity benefits. This is contrary to what you read about enterprise mobility, and how IT consumerisation is going to increase worker productivity. The companies we're working with have already been down the BYOD or Mobile Center of Excellence paths, and see TREWGrip as a "tool" that will make their field workers more productive. They also understand there's some training involved, but see training as a barrier to entry and a way to distance themselves from the competition.
We expect unit sales through Q3 to grow steadily. As we move into Q4 and Q1 of 2017, we expect sales to increase dramatically. When we introduced TREWGrip at CES 2014, we were definitely not ready for all the attention it received. We will not make that mistake again.
Studies are starting to show that smartphones are changing how our brains work and our hands look, are there health benefits to using TREWGrip?
I'm not a doctor, so I'm definitely not qualified to talk about health benefits. All I can say is we designed TREWGrip so it could be used comfortably in a mobile setting. That being said, there is something about the arms being shoulder width apart, and the hands being in the handshake position that makes ergonomists and human factors engineers want to study it. Not to mention the ability to stand up, and move around while typing. A few customers are using TREWGrip with "walkstations" as a way to overcome a sedentary lifestyle. I use it while sitting and standing at my desk, but I'm not sure how well I would do on a treadmill.
Why the initial focus on the healthcare industry? What's the benefit, and what other industries do you see TrewGrip being useful in?
The healthcare industry was one of many that we have explored, and the real opportunity seems to be in Emergency Departments. Crowded ERs make it difficult to push around Workstations on Wheels (WOWs), so a number of Emergency Departments have hired Medical Scribes for their ER docs. Only in our healthcare system, can automation lead to more work and the hiring of additional staff to operate the technology. But there are some hospital administrators that see WOWs and Scribes as a short-term fix, not a long-term solution, and they have committed to exploring TREWGrip's potential in various healthcare settings.
You exhibited at the 2015 Silicon Valley Virtual Reality Conference, what are TREWGrip's plans around Virtual/Augmented Reality?
The VR/AR market was another that we explored. A number of VR developers purchased TREWGrip units to simplify the process of writing and testing code. Having used the device, they now see it as a potential controller for certain applications. There may be some opportunities, especially with AR applications, but there is still a lot of uncertainty in this space, and the market is just too new for us to expend significant resources at this time.
Can you talk about the new design you're showing on your site? What will be different and when can we expect to see it?
What you call "the new design" is actually the vision that I had for TREWGrip from the beginning. A handheld (or grippable computer) for mobile workers that has the productivity benefits of a laptop and the mobility benefits of a tablet. It will have its own microprocessor, memory and hard drive, and feature a curved screen that enhances depth perception and produces a wider field of view.
When I started exploring the potential for a grippable computer back in 2010, I felt like we had to take a smaller step and prove the concept before attempting it. So we designed and built the Mobile Dock unit. A good part of this year, and the capital being raised, will be spent building a handful of grippable computers. We're off to a good start, and if all goes as planned we should be introducing the new design next year around this time.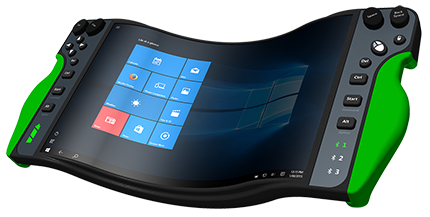 Future plans for the company over the next 12 months?
The next 12-months are about continuing to make progress with commercializing the Mobile Dock unit, and developing the grippable computer. We will continue to establish partnerships with developers and early adopters, and begin building relationships with hardware manufacturers.