Human Resources
Typical 24: Tammy Moskites, Venafi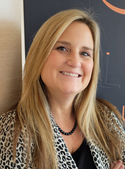 Name: Tammy Moskites
Job title: CIO & CISO
Company: Venafi
Location: Charlotte, North Carolina
Years' experience: +25 years
1. What time do you reach the office each day?
I am on the road 95% of the time — so it depends what country/state/city I am in.
2. Is your job varied?
My current role as both the CIO and CISO is one of the most varied jobs I have ever had. Business, security, IT, sales, leadership, mentoring, coaching, public speaking, etc. I am so lucky!
3. Is your job creative?
I love the creative side of my job as I get to partner with one of the most entrepreneurial teams I have ever worked with. The professionals are always able to see the big picture and address the business needs in the company to ensure that we are addressing the actual risk for customers. We encourage innovative thinking, career development, and the freedom to express new ideas in a casual environment. Our inclusive and diverse atmosphere nurtures our team members and inspires them to create solutions that help our customers succeed.
4. What do you spend the majority of your time doing?
Being passionate about what I do for a living – securing and protecting companies from threat actors.
5. Do you personalise your desk?
Pictures of my family, leadership books – and my EEYORE (a Winnie-the-Pooh character) coffee mug.
6. Would you describe yourself as creative?
Personally - I love to cook, draw, paint, and write poetry. At work I love coming up with ways for the team to think outside of the box, such as coming up with imaginary products during brainstorming sessions. My teams and I often challenge one another to be the most creative and innovative when it comes to problem solving.
7. Do you have any quirky daily rituals?
When at home I have to make my bed every morning before I leave my bedroom and then a cup of coffee. When I am in a hotel I have to fold/hang all of my clothes and put them all away as soon as I get to my room. When I am about to leave on a business trip I always leave a note under my husband's pillow before I leave.
8. Do you tend to work on your own or with colleagues?
A combination of both. A lot of the time I also work with existing and potential customers.
9. How many hours on average do you work a day?
More than 12 hours per day. Since we are a global company there are days where I am working around the clock due to meetings. But as a security professional, really we are working 24x7x365.
10. Roughly how much time do you spend each day on email? Taking calls? In meetings?
It really depends. I try to answer all of my email while I am flying as I am in the air a lot. On average I spend three hours on email per day. Calls and meetings take up a majority of the rest of my day.
11. Do you use social media much for work?
Yes, I have my own Twitter handle @QueenofCandor and I use LinkedIn daily. Also our website and blog.
12. What do you enjoy most about your work?
I love everything about what I do – I am very lucky. I love partnering with my fellow Venafi warriors as well as getting the meet with CISOs around the world.
13. What type of music (if any) do you listen to at work?
I generally listen to Classic Rock and New Country – or whatever the mood calls for.
14. What do you do for lunch?
I usually eat at my desk, on a plane, at the airport or go to lunch meetings. Yes, I am on the road A LOT.
15. Do you socialise with work colleagues?
My work colleagues are around the world, so when I am in their cities we do have dinner and an occasional beer or two. We also get together as a leadership team and have dinner quarterly. My company gathers all employees twice a year as well for team-building and we have a great time.
16. Are there any tasks (through your career) you've been especially glad to get rid of?
Early in my career when making copies for meetings as an executive assistant. Standing at a copy machine for what seemed like forever, making a bunch of copies until one of them got jammed and your entire batch gets out of order and then you have to start over.
17. What is your last task of your day?
Making a list of the things that have to get done tomorrow and kissing my husband goodnight. Unless I am on the road and even though we have talked already on the phone, I always text my husband "Good Night – Love you" right before I go to sleep.
18. How do you like to relax after work?
Spending time with my family, who are my world. When I am travelling, I like to take a walk and look at sites if I get a chance. On weekends it would be dinner with family, getting together with friends, golfing and attending sporting events.
19. Do you keep checking email through the evening?
As a security professional, we really are working 24x7 and every day.
20. Do you take work projects home with you?
My home is my office, and I travel 95% of the time.
21. What would you say to your 20-year old self?
Be patient in your career – it all works out. Oh, save some money and stop using your credit cards!
22. If you could try out any job for a day, what would you choose?
I would love to be an employee at Disney World. I love watching people's dreams come true and they are just so happy to be with their family and seeing imagination comes to life.
23. What device did you use to answer these questions?
My MacBook Air.
24. Do you use your own personal device for work?
I also use my own iPad for work.