Collaborative Working
C-suite talk fav tech: Tom Harwood, Aeriandi Ltd
CIOs, and increasingly CMOs and CEOs, may be responsible for the technology within their group but what about their personal preferences? We profile the global c-suite to learn more about their 'fav tech.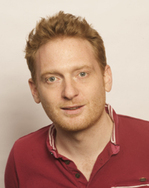 Name: Tom Harwood
Job title: Chief Product Officer
Company: Aeriandi Ltd
Industry: Voice Compliance and Security
Location: Oxford, UK
Years' of experience: 15
What is your favourite personal gadget?
Whilst I would love to answer this with some incredible new gizmo that truly speaks for my individuality, the reality is that it is of course my phone. Prior this this, it would have been my last phone, and the phone before that all the way back to a time when I somehow miraculously met up with my friends, read physical books and pondered questions of the universe without direct access to Facebook.
Do you have a favourite piece of personal software?
After Effects – I've been getting into some film making recently, and it's simply incredible what you can do with a few YouTube searches and a button click. I'm coming for you James Cameron.
What was the first piece of technology you got really excited about?
The Commodore 64! There was a Terminator II game in particular which was to this day the most frustrating challenge I've ever partaken in. I only ever got as far as level 3. I'm not even convinced they bothered to make a level 4 – or, if they did, I doubt anyone living has actually played it.
What device improves your life most at work?
That's easy. The coffee machine. De'Longhi. Bean -> cup. Magic.
What software keeps you most productive at work?
The Java application running on the coffee machine. Java…
Is there any technology that has become extinct that you would like to resurrect?
No.
Is there any technology you would personally recommend that you don't think enough people know about? (Hardware or software, work or personal)
Did you know you can buy call recording from your mobile phone operator? Well, if you are a company and you pick the right operator you can in any case. We saved ourselves a number with many zeros attached by pulling a call a few weeks back and proving what was agreed with a supplier. Lifesaver.
Do you think anything about your personal use of tech would surprise your colleagues?
I think they may be surprised at how much of a luddite I am. I'm often the last to finally agree that a new app or website is actually going to improve my life to a degree worthy of investing the time to use it. Some may (and do) call this laziness, but I like to feel there's a certain efficiency in there somewhere too… hidden. Deep.