Human Resources
The CMO Files: Stephen Trenery, Majenta Solutions
Get inside the minds of the world's top marketing professionals. In 20 questions we find out what they love most about their job... and what keeps them awake at night.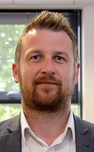 Name: Stephen Trenery
Organisation: Majenta Solutions
Job title: Digital Marketing Manager
Location: Coventry, UK
Where were you born and raised?
Born in the North in Ormskirk, just outside of Liverpool, but I was raised in Birmingham.
What was your first job?
My first job was in Sainsbury's Bakery – it taught me the importance of waking up early, getting to work on time and it gave me a strong work ethic for the future. I also enjoyed interacting with customers, having brief conversations with them over the counter as they ordered their cream cakes. Those first roles when you leave education are great for giving you that much needed work experience.
I've always had a passion for marketing, even at high school. Understanding what made customers 'tick' really interested me. So, when I started out at NatWest, in my first marketing role, I took as much as I could from it. It was, and still is, an amazing company to work for, where I learnt a lot about the marketing world from some great people and mentors.
What was the first product you got really excited about?
To be honest, and don't laugh, I did get very enthused about mortgages. Working at NatWest at the time, in my first marketing role, it was hard not to get excited about what I was doing and promoting.
Today, I get really excited about technology and how it's being used within business and in everyday life. Take Virtual Reality and Augmented Reality for example. When the Google Glasses came out, everyone clasped their hands in excitement, including me. Was this technology part of our future? Working at Majenta Solutions, I see every day just how Virtual Reality and Augmented Reality is improving business processes and consumer interaction. The technology runs right from design and build to sales and product and service maintenance.
Who has been the biggest influence on your career?
Lots of people have influenced me throughout my career. My family have always been there when I've needed advice, for which they continue today and I'm very grateful for that. Professionally speaking, I look at the likes of; Rand Fishkin of Moz, Simon Sinek and Larry Page as people that influence me today. However, influence and inspiration can take many forms, so I like to keep my eyes open.
What has been your greatest achievement?
Becoming a Dad, getting married and my 50m swimming badge. On a professional note, I'd say my biggest achievement to date is still having the hunger to learn. I could tell you all about the delivery of successful projects, but if I asked myself "could they had been delivered better?" Of course, they could. It's learning about how…
What has been your biggest mistake?
Tough question. I could pick a few big mistakes, but probably couldn't tell you the biggest. Some big mistakes happened from cutting corners, not utilising the right data or involving the right people, and not having the confidence to speak up when I thought projects weren't going well.
These are all mistakes that I've learnt from during my time in marketing. It made me a better marketer. It's also advice that I pass down to others who are starting off on their marketing journey.
What is your greatest strength?
Juggling. I like to use this as a metaphor to describe a typical day in marketing at Majenta Solutions.
Each ball represents a task; it could be a project deadline, a strand of work, a customer that you need to engage with, creating a strategic activity, or a discussion with a work colleague. Today will always present challenges and opportunities. Learning to juggle, to keep all the balls in the air and moving, is my greatest strength.
What is your biggest weakness?
I'm passionate about what I do. I want my marketing team to add value. However, from time-to-time, this passion can mean that I take on too much, meaning a failure to deliver projects.
What do you think is the aspect of your role most neglected by peers?
Good question. I think the importance of planning can be overlooked, especially as we're all living in a world where we want 'instant' results. If we get the planning stage right, our activity will deliver results. Time is precious.
Which word or phrase is your mantra and which word or phrase makes you squirm?
My mantra is to 'take a step back'. It's easy to get lost when juggling work, so it's vital that everyone can take a step back. Whether that's to look at things differently or from a new perspective, or simply to go and grab a coffee or some fresh air.
There's no word or phrase that makes me squirm, but seeing people's creativity and passion for their work extinguished, whatever they do, is disappointing.
What makes you stressed?
There are few things that make me stressed, I tend to cut a frustrated figure when people I engage with promise to deliver but don't or simply don't learn from previous mistakes.
What do you do to relax?
There's no greater delight than spending time with family and socialising with friends. Playing with my 6-month-old daughter, who hasn't a care in the world, provides me with the best tonic to unwind after a day at the office.
What is your favourite song?
This really depends on the mood I'm in. One of my all-time favourite songs is 'The Chain' by Fleetwood Mac. But I also enjoy music from film soundtracks, so I'd have to include 'Journey to the Line' by Hans Zimmer.
Which book taught you most?
'Eat That Frog' by Brian Tracy has taught me a few things that I can use both personally and professionally.
Do you have a team or sport that you follow?
As most of my family were from Liverpool, it would have to be Everton. My Dad bucked the Trenery tradition of supporting Liverpool, and I couldn't see him out on a limb so joined him in supporting Everton.
Which country would you like to work in?
There's a couple to be honest. I've always admired the United States of America, especially in the world of marketing. They seem to be a step ahead of everyone else with best marketing practice.
Another one would be; Japan. They have a great mix of tradition and technology that I'd love to experience by immersing myself into their culture.
Which company do you think has the best marketing?
I've always admired Innocent from a consumer point of view. Marketing messages are fun, simple and on-brand. I'd recommend looking at their social media, it's fresh and really engaging.
What do you love most about your job?
The people, the direction and ambition of the company, and the challenges and opportunities I work with every day. All this and being able to make a positive difference to businesses all over the world.
What is your favourite book?
I thoroughly enjoy reading anything by Julia Donaldson to my 6-month-old daughter. But, I'd have to pick 'Human Universe' by Brian Cox as one of my favourite books of all time. He makes complex science so wonderfully simple, telling a story of our origins and what the future may hold for us.
What keeps you awake at night?
How can I add more value to our customers at Majenta Solutions? What does the future look like in manufacturing and what does this mean for us, as consumers? It's OK not to have the answers each night, but I can't help but try.