Software & Web Development
Crowdfunding Revisited: Mindsense seeks to redefine your inbox
Inbox Zero. For many it's nothing but a myth or an unattainable dream. But it is possible to achieve with the right tools.
Mindsense is one such company on a mission to redefine your inbox. Its product, Mail Pilot, started out due to a bet over who had the most unread emails. The winner had 10,000 unopened communiques, and the result was a new client that combines traditional email with productivity features and to-do lists that make email more manageable.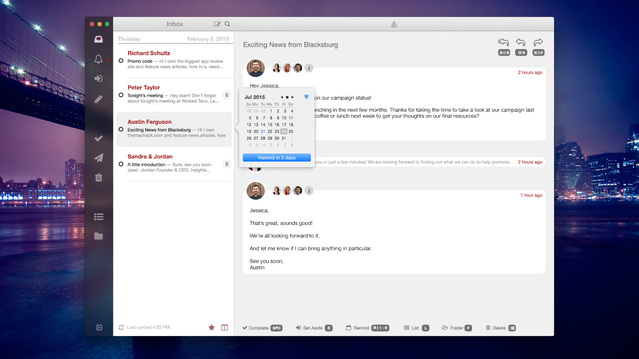 The two-man team - Blacksberg, Virginia-based Josh Milas and Alex Obenauer – took their solution to Kickstarter in early 2012 and raised over $50,000, which although is small fry by the standard of today's campaigns, was at the time a very impressive number.
We spoke to Co-founder and President Milas in early 2014 about why email will never really be truly replaced and their quest to reimagine the email client from the ground up. Not long after, MacWorld's Nathan Alderman labelled their product "a smart and solid choice for users who want to manage their email more productively".
Fast forward to today, and Mindsense has expanded the team and seen Mail Pilot garner over 50,000 downloads. In January the company has also launched Throttle – an email filtering tool that gives the user greater control over what reaches your inbox compared to spam filters.
We spoke to Mindsense CEO Alex Obenauer about Mindsense's approach to growth, new products and how to avoid being seen just a feature and not a product.
You ran your Kickstarter campaign in 2012, and we wrote about you early 2014. What's happened with Mindsense since then?
Mail Pilot for Mac hit the #1 top paid app spot (in over 50 countries by the end of the year) — so we were busy growing our team (recruiting and hiring our first full-time employee to join the team), and working on the next generation of Mail Pilot. Since, we've released big version two updates to our mobile and desktop offerings.
Now, over the last year, we've been working on a totally new product called Throttle. We launched it in January, and it took off to a huge start — becoming one of the rare launches to amass over 1,000 votes on ProductHunt. Post-launch, Robert Scoble even interviewed us about it.
Aside from the initial Kickstarter campaign, has Mindsense received any funding? Is it something the company is interested in?
So far, we've still operated solely on product revenues. This is great, because we get to stay responsive solely to our customers, and we have a level of autonomy that I think we have needed as we were learning how to scale a startup.
That said, there are drawbacks. In particular, we can't grow the team very quickly, and our limited bandwidth really constrains what we can do. So is funding something we're interested in? Maybe, if it starts make sense.
Would you run another campaign in the future?
If we felt that it made sense, absolutely. Crowdfunding is such a great way to validate an idea and business model, grow an audience, and get funding, all in one big step, which makes it incredibly low-risk. It puts us in touch with the people we make things for - "your best investor is your customer" - and it gives the consumer a voice in the market.
That said, only certain types of projects make sense for crowdfunding, so we'd have to be working on something that makes sense; for example, it's exceptional for B2C products, but it hasn't made much sense for B2B yet.
Are you focusing more on individual users or businesses? Is there an element of people bringing Mail Pilot to their work and the business then adopting it on a wider scale?
We've focused on individuals, but there is a lot of team-wide adoption because a huge percentage of our users own small businesses (lawyers, doctors, freelancers, web design firms, etc.). These folks get a lot of email, and they stand to make money by staying on top of email, so Mail Pilot makes a lot of sense in their workplace.
Mail Pilot includes support for the Apple Watch, how hard is it to make a useful email app for such a small screen, and are you looking towards other wearable tech such as smartglasses?
It's not terribly difficult, because ultimately the use you get out of email on your wrist is for notifications. You get to see that you have a new email, who it's from, and generally find out what it's about, so you know if you need to pop out your phone or laptop and deal with something immediately, or if it can wait until later. This is the biggest benefit we've seen to having email on the wrist, and such a narrow use case was pretty easy to deliver on a small screen.
Can you explain your new product, Throttle?
With Throttle, you can control who can send you email, find out who tries to sell or steal your email address, combine all mass mailings into a single daily digest email, and most importantly, stop giving out your email address online. Its ingenious design means you don't even have to change your workflow to use it.
The big problem with email is the volume most of us receive. Our important messages are buried by stuff we get because we purchased something online, newsletters we wanted to read but that always interrupt us, and spam from businesses that sold our information.
Throttle works with a browser extension that automatically adds a button to all email form fields online. When making a purchase, for example, you hit the button instead of entering in your real email address. The extension fills out the field with a unique, random email address. All mail Throttle receives for you it collects and sends to you in a single daily digest email.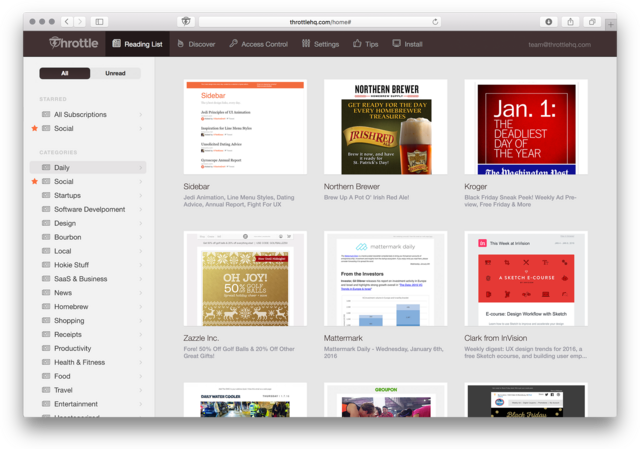 But what's really interesting is that since we gave each sender a different email address to contact you with, we can detect who sells your email address, and you can hit "Revoke Access" next to any authorised sender, which shuts down that unique email address. They, nor anyone that they give your address to, have any way into your inbox. As a bonus, it's (maybe counter-intuitively) great for legitimate senders, too.
Dropbox and Evernote – both well-known productivity apps – are seen to be struggling and have been retiring certain products. Are there lessons Mindsense can take to avoid being seen as "a feature and not a product", as these two have in the past?
These have been phenomenal examples to watch. All three of us — Evernote, Dropbox, and Mindsense — are in consumer-level productivity software. As is the case in technology, things are moving quickly. But this is exponentially real in consumer-level software. Why? Software is cheap and easy to build, and consumers (vs businesses) incur minimal switching costs, so they adopt new stuff really quickly.
What we're seeing with Dropbox and Evernote is a huge call to action for Mindsense. What makes us most valuable today is not a product like Mail Pilot or Throttle. It's a human-centered design-thinking mindset that focuses us on discovering unsolved problems and coming up with stellar, innovative solutions for these problems. With Mail Pilot, we saw people having a hard time getting their inbox clean. With Throttle, we saw people having a hard time keeping stuff out of their inboxes that didn't belong there in the first place.
The call to action for us is this: don't fall in love with the product, fall in love with the process. We need to keep innovating, keep solving problems, keep applying our process to continually turn out great new products that improve people's lives by solving tough problems.
For a really dramatic example, look at 3M: They started as a mining company in 1902, but as that proved to be of little value, they looked at solving new problems. Today, they're one of the world's strongest companies, they have 55,000 different products, and most amazingly, more than a third of their revenue comes from products that were created in the last five years. That's innovation. That's love of a process over a product.
At Evernote and Dropbox, you instead see folks trying to morph the wording they use to describe a solution to a problem that existed a decade ago to make it sound like it's still timely and relevant.
But those great products were born out of a process, and I think that process needs to be dusted off and revisited. It's clear they have the "secret sauce" in there somewhere, but they need to be willing to let go of everything that's gotten them to where they are today — one single result of their process — and embrace new results of the process. New ideas and new solutions to new problems that plague their core customers in 2016.
At Mindsense, we need to do the same. That's why, even though Mail Pilot got us to where we are today, we're focusing so hard on Throttle. And when that problem is solved, we'll focus hard on scaling up something else.
We live and die on innovation. Innovation can kill our companies, and innovation can propel our companies forward. But it's up to us to figure out how to wield it.
Although some experts see the likes of Slack and enterprise social media replacing email, others see AI reinventing how people use email – what's your take?
Here's how I break it down:
Right now, email is used for external communication, internal communication, and personal productivity. Slack replaces internal communication. That's a big win. Social media replaces casual external communication. That's another big win. Oh, and reading interesting content, but Throttle takes that out of the inbox. What's left is professional external communication. When I'm on a committee, and we're planning when to meet or passing around a PDF, we're not doing it on Slack or on Facebook, we're doing it in email.
Email is so pervasive in this context because it's universal, and it's decentralised. Slack and others will continue to chip use cases out of email – which is a good thing - and AI might do a little to help solve the use cases that remain in email. But I still believe the best solutions to the use cases that will be left in email will involve empathetic, human-centred design to get to the user experience that truly succeeds for the use — like riding a bike. You don't think about the bike, it becomes second nature to operate, so you can focus on where you're going on the bike, where it's getting you, and what you're experiencing while you're on it. The email client needs to be more of a bike.
Future plans for the company/ more products in the pipeline over the next 12 months?
Here's a big one: Throttle will become free. Who needs revenue? (Kidding. Just don't tell our accountant.) We want to make sure everyone gets the great benefits Throttle has to offer. After our launch we saw such great demand for Throttle. Watching all this traction was tough; since were charging for it up front, we were seeing a big opportunity that we were not capturing. This month, we'll make Throttle free. The current service will be a 'forever free', unlimited tier. And we'll instead focus all of our efforts on attacking growth.
We've got some really incredible ideas and prototypes for where Mail Pilot is going next, particularly for teams. We're working on some really cool stuff that no one has attempted before; it takes even more leaps and bounds ahead than the initial Mail Pilot concepts did in January 2012. But in many ways, our prototypes have been too ambitious — we've put together three functioning prototypes already to date, each of them very different, and each of them very ambitious. The hardest part is figuring out how to scale the concepts back so that it's shippable.