Collaborative Working
Slack: A worthy email challenger?
Hilary Clinton is the latest public figure to get a whip-lashing because she used a private email account while serving as secretary of state. Speculation about why she did this has been rife. What was she hiding? Which emails did she not hand over? Sony Pictures must be breathing a sigh of relief that Clinton has taken some of the heat of its own public humiliation after a series of very private email exchanges were hacked into and revealed publicly.
Email may be susceptible to deep security flaws. But what about thousands of businesses that use email communication on a day-to-day basis? It is not just security that is the problem. Going through endless emails wastes precious time and constantly filtering emails can become a tedious chore.
But what is the alternative? The rise of messaging apps like Asana, Yammer, and Huddle believe they have the answer but it is Slack that is drawing the most attention. And for good reason. For a startup that is still very young it is said to already have 268,000 users per day. Bloomberg recently reported that the company is in talks with investors to raise financing at a valuation of more than $2 billion. Its expansion has continued as it has now released a desktop app for Windows – something which will make 30% of its users very happy.
So what does Slack do? The messaging platform's aim is to "provide cross-team transparency where everything comes together with one search box across all team communication and the essential tools you use every day." As Wired explains, it links up to many of the applications that are commonly used at work: Dropbox, Google Apps, GitHub, Heroku, and Zendesk and keeps track of them.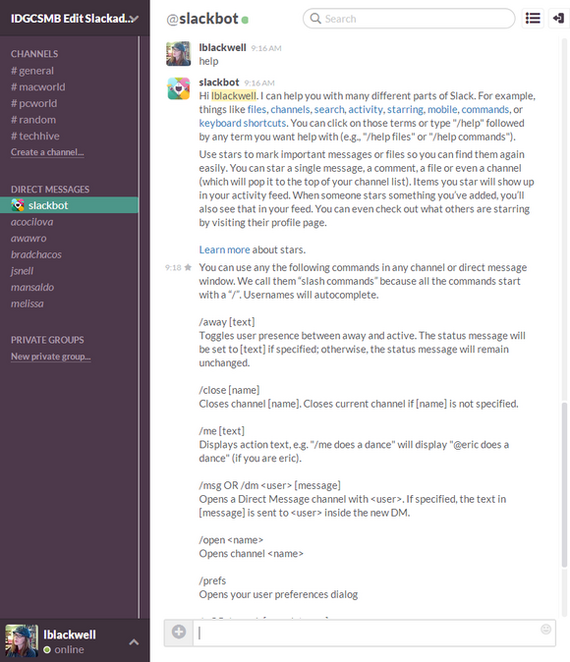 Image credit: PCWorld.com
Slack's rise in popularity reveals that despite email still being the dominant form of communication, companies are experimenting with using internal messaging - and they seem to be liking it. I corresponded with Slack via email to find out why this is:
"Using a centralised system eliminates tension between 'I want to be kept in the loop, so please CC me' and 'I get way too much email, so stop CCing me on everything' disappears. By default, communication is open, and everyone inside the organization can see what's going on everywhere else. The need for status reports and daily stand-up meetings decreases."
Rebecca Joines Schinsky, Director of Content at Riot New Media Group tells me about how her company transitioned from using email to Slack. She says that her team tested Slack over a month before moving over completely and while her team members were "sceptical", they were "quickly won over" when they saw the volume of new messages in their email fall.
"Slack isn't perfect, but it has solved a lot of the problems we felt we had with email. It has given us a greater ability to have transparency within our management team, and when someone who wouldn't typically work on one kind of problem sees a discussion and has a creative idea, they can jump in. With email, they would never have been included in the conversation in the first place," Schinsky tells me over email.
"It has also helped us cultivate a deeper sense of collaboration and community within the groups of contributors," says Schinsky. "It has given us a way to put people who live all over the world into a kind of room together, and the results have been extraordinary."
For Gordon Mangione, CEO at Tipbit, the rise of messaging platforms like Slack raises a different set of issues: "The challenge many people face is the requirement to manage yet another queue of information. People already need to respond to texts, tweets, Facebook posts, voice mails and email. Now companies are trying to create more information sources [that] people need to manage all locked into proprietary services which only work with their products."
Whatever people's opinions may be on Slack, the company has tapped into an era of instantaneous communication. People are naturally drawn towards anything that is fluid and easy but there is a danger to this as well. According to Josh Broaded, managing director at ACA Compliance Group, "Instant messaging can be much more dangerous as it is a peek into an employee's brain, quite often without the filter."
Clinton admitted that she used her private email account because of "convenience" and it seems to indicate that whether we are communicating by email or via another messaging app, we are shifting to a culture where any technological platform that provides the most convenience, in spite of security risks is the one people will choose. Take Facebook's acquisition of WhatsApp for example. Despite users having no idea what Facebook plans to do with it, it has grown to more than 200 million new users since the acquisition. And these are are sending more than 30 billion messages per day.
But for now email need not worry. With over 100 billion emails sent and received daily - it retains its throne as our main form of communication in the workplace.