Human Resources
Typical 24: Nigel Edwards, HGST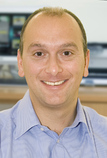 Name: Nigel Edwards
Job title: VP EMEA
Company: HGST
Location: Havant, UK
Years' experience: 20 years
1. What time do you reach the office each day?
My arrival time varies day to day as my office is actually located 55 miles from home. On days I travel down to the Havant office I arrive around 9am, depending on traffic. When working from my home office I can get connected and online by 8am.
2. Is your job varied?
My job is incredibly varied. The HGST business has transformed over the last five years from being a HDD component business to now being a broad storage solutions provider covering HDD, SSD, PCIe and most recently Cloud Infrastructure with the launch of our new Active Archive system.
3. Is your job creative?
My job requires me to be creative across many different areas of our day to day EMEA business. This can be keeping our various internal sales teams driven and motivated, and also externally, with our partners and marketing agencies.
4. What do you spend the majority of your time doing?
Wow, it varies hugely day by day, but I would say the largest portion of my day is spent planning and speaking with my team and customers.
5. Do you personalise your desk?
Yes for sure. I have pictures of my family, team members and a shrine to Arsenal football club.
6. Would you describe yourself as creative?
Not overly no, but I like to ensure that HGST hires plenty of people who are.
7. Do you have any quirky daily rituals?
Not that I can think of, but you might need to ask my wife!
8. Do you tend to work on your own or with colleagues?
I am a big team player and I try to work with my colleagues as much as possible to encourage growth and motivation
9. How many hours on average do you work a day?
On average I would say 12-13 hours, mainly a result of late night conference calls.
10. Roughly how much time do you spend each day on email? Taking calls? In meetings?
Combined they take up almost all of my business day.
11. Do you use social media much for work?
I use LinkedIn as my professional social media platform of choice. I think it's really important for businesses to embrace social media.
12. What do you enjoy most about your work?
The variety of the day to day tasks and being at the forefront of new technology and innovation.
13. What type of music (if any) do you listen to at work?
I have to admit that I don't listen to music at work.
14. What do you do for lunch?
I always try to take at least 30 mins for lunch. If I'm at home I will take the dog out for a walk. It helps me clear my mind and get ready for the rest of my day.
15. Do you socialise with work colleagues?
I do get out to socialise sometimes, but I can't more often because I live so far from the office.
16. Are there any tasks (through your career) you've been especially glad to get rid of?
I'm lucky enough to have my admin who has now taken over various tasks for me that I found very time consuming!
17. What is your last task of your day?
Before I go home at night I like to quickly check my inbox to make sure that no fires are burning!
18. How do you like to relax after work?
I enjoy movies, running, golf and I have recently taken up road biking which I love.
19. Do you keep checking email through the evening?
Unfortunately yes. Working for a US corporation, there are often queries or questions that pop up late into the evening. By responding that night I can often get answers or resolutions within their working day, which saves my team 24 hours.
20. Do you take work projects home with you?
Sometimes but not regularly.
21. What would you say to your 20-year old self?
If the opportunity ever arises for you to work overseas, take it and embrace it. I did and I believe it was one of the best life decisions I ever made.
22. If you could try out any job for a day, what would you choose?
I think I would like be a scuba diving instructor for the day, based in the Caribbean
23. What device did you use to answer these questions?
My work laptop.
24. Do you use your own personal device for work?
No I use a work laptop and phone for work.