Human Resources
Typical 24: Peter Groucutt, Databarracks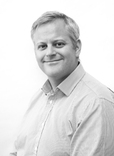 Name: Peter Groucutt
Job title: Managing Director
Company: Databarracks
Location: London, UK
Years' experience: 20 years, man and boy
1. What time do you reach the office each day?
I am at my desk at 7am most mornings to check my emails and ensure that there have been no customer issues overnight that need my attention. If there is a customer disaster or invocation then I will be woken up in the night and advised of the situation, but anything else I will get first thing.
2. Is your job varied?
Incredibly varied. It's the thing that I enjoy the most - one minute I'm talking about customer satisfaction strategies, next the future of our industry and technology roadmaps, and after that sitting with a member of the team that needs some support. They say variety is the spice of life and I have to admit that the diversity in my role is what gets me out of bed in the morning.
3. Is your job creative?
I would say most definitely - creativity is one of the most important aspects of my role. I can't draw or sing (although in my head I am angelic) but information technology is moving at an incredible pace, and if you want to be innovating and creating value for your customers then you always need to be thinking about what's next, how can we improve and how we can add value to our customers' lives. It involves a mind-set across the whole business and if you get it right you have a business for the long-term. Allow yourselves to become complacent and you will find someone else who will offer your customers more. Innovation and creativity are critical to success in managed services.
4. What do you spend the majority of your time doing?
This is interesting and something that I have spent a lot of time thinking about recently. I would like to say that my goal has always been the third/third/third model of spending time equally between customers, strategy and team. I can't say that this is always easily done but certainly spending all of my time split between these goals is where I would like to be.
5. Do you personalise your desk?
My desk at work, no. In my office at home my children personalise my desk, my floor, my shelves and any other space they can find. Not always to my taste, but I like it nonetheless.
6. Would you describe yourself as creative?
I think anyone who started and built a business is by their very nature a creative so at the risk of blowing my own trumpet I would say yes. I like to see the business and everyone in it get better at the stuff we do every day. I see the pathways to that and I like to encourage them, but I know that the journey is the goal, never the destination.
7. Do you have any quirky daily rituals?
Not that I am aware of… although I may be the wrong person to ask.
8. Do you tend to work on your own or with colleagues?
I always work with colleagues, even when I am working on my own. Invariably, my strategy always includes other people. I always try to surround myself with clever, driven, intelligent people so I spend most of my time working out how to leverage their talent for the good of Databarracks.
9. How many hours on average do you work a day?
I try to have a good balance, but the reality is that you never really switch off. I check emails first thing in the morning and last thing at night and in-between that time I am constantly in touch even if I am not actually working per-se.
10. Roughly how much time do you spend each day on email? Taking calls? In meetings?
I work from my home office on Monday and Friday so I spend most of my time on email and perusing strategy and reviewing business metrics on those days. The rest of the week is almost all meetings of some sort or another. I try not to communicate too much over email as I think a conversation on the phone, or even better face to face, is key to creating good relationships. While we frame it in 'technology', relationships are what we are all about.
11. Do you use social media much for work?
We do as a business extensively and I am trying to engage personally, but I am much more of a technology strategist rather than a user so I struggle to be consistent. However, follow me on twitter @petergroucutt and I will try to do more of it!
12. What do you enjoy most about your work?
Working with the team at Databarracks.
13. What type of music (if any) do you listen to at work?
I don't listen to music at work, although I work in the sales office where the guys normally listen to an eclectic mix. I am passionate about music and one of the things I have really leveraged technology for is discovering new music on Spotify. I listen to music while I run and sometimes in the morning when I walk to work, although this time has recently been taken up listening to audiobooks. Stanley McChrystal – Team of Teams is my current listening.
14. What do you do for lunch?
Eat at my desk.
15. Do you socialise with work colleagues?
Not as much as I would like. I live in Dorset and the office is in London, I have four children so I rarely have the time to socialise with anyone. I really enjoy it when I do though and have had many insightful conversations when I have been out with colleagues. It is great when people can open up and say what is really on their mind and sometimes this simply doesn't happen in the office. I think this is a valuable thing to do and something I am aware that I need to improve on.
16. Are there any tasks (through your career) you've been especially glad to get rid of?
Yes – being on call technically. When we first started Databarracks there were three of us and we all took turns picking up the phone in the middle of the night. Now I don't do that and to be fair none of the engineering team would let me anymore - our technology stack is too complicated for me these days.
17. What is your last task of your day?
This differs on a daily basis.
18. How do you like to relax after work?
I play tennis, I play the drums, I sleep like a demon and when I am in Dorset I am usually playing with my children.
19. Do you keep checking email through the evening?
Yes, I am afraid I do.
20. Do you take work projects home with you?
I work from home often so yes.
21. What would you say to your 20-year old self?
Stop sitting around thinking you are going to be a rock drummer and start Databarracks NOW!
22. If you could try out any job for a day, what would you choose?
I love my job and wouldn't change it, but it would be interesting to try out a role where the strategic thinking, actions and outcomes are more immediate.
23. What device did you use to answer these questions?
Desktop PC.
24. Do you use your own personal device for work?
No, we are pretty well locked down.