Manufacturing and Process Management
Crowdsourcing Innovation: Samantha Herzog, Campaigns and Production at Zeni Kinetic
Crowdfunding sites are offering a new path for inventors with original ideas. We talk to inventors looking to gain the public's favour...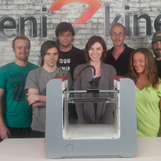 Name: Samantha Herzog
Job title: Campaigns and Production
Organisation: Zeni Kinetic
Location: Salt Lake City, Utah
Product: Zeni Kinetic Origin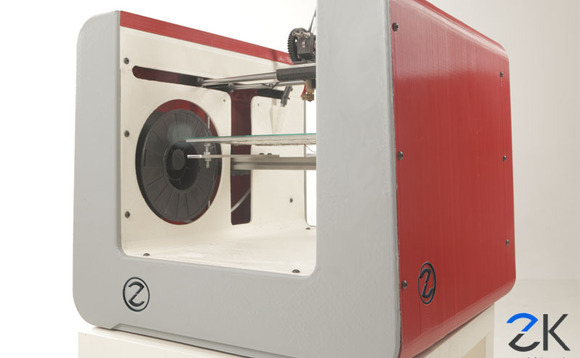 What it does & how it works:
The Zeni Kinetic Origin is an affordable desktop FDM (Fused Deposition Modelling) style 3D printer designed for printing large, useful items. 3D printing can also be known as "additive manufacturing" or "rapid prototyping" depending who you ask, but all these names refer back to this: a process of building up a digitally designed object layer by layer with a chosen material to create a tangible, physical item made out of that material. Users first either design, find, or modify a 3D model using computer-aided design software or downloadable .stl files, and once prepared and selected, these models are sent to the printer where they are built into a physical object using the layering process described earlier.
What makes it stand out compared to other 3D printers?
The Origin has a considerably larger build space than most other personal 3D printers, and is sold at an affordable rate. It also has a unique open 180-degree design to allow easy access to all parts—internal and external—as well as the prints themselves. The minimalist skin and elegant lines on the Origin allow it to look natural in a home office setting, and the side panels come in 6 attractive colors: Dark Grey, Light Grey, Red, Blue, Aqua, and Raspberry. Our printer adheres to Open Source practices to allow for user flexibility and modification. We also offer a distinctive option for multiple extruder heads and other upgrades such as heated beds, stand alone and upgradable controllers, SD card slots, and network connection ports.
In my opinion though, the most important difference is our company's spirit of innovation. We want our customers to modify our product and make it better, offering kits and models to other users. We used slotted extrusion at the top and bottom of the Origin to ease the mounting of custom controllers, electronics, and mechanics. But rest assured that our customers won't be the only ones busy with innovations. Right now the Zeni Kinetic Origin is only set up to print plastic filaments such as PLA and ABS, but in the future we plan to launch options for food printing—such as candy, pizza, and waffles—metal, ceramic, and even medical bio-printing, among others. We believe that the possible applications and printing options for 3D printers should be limitless, and we plan to always be pushing the boundaries of what seems possible.
What's your background, and what inspired you to come up with the idea?
Zeni Kinetic began as one of the first filament manufacturing company in the United States. Selling our first spool back in 2012, our company has been gradually building up its filament extrusion and spooling lines to facilitate a steadily growing number of orders. The game-changing potential of the 3D printing world has long been an inspiration for Zeni Kinetic to push forward in spite of the intense global competition presently at hand, and a 3D printer has long been in the works to help strengthen our position in this rapidly growing industry. We believe that we can bring 3D printing to the world in a way that no other company can, and that's what keeps us going.
Why Kickstarter?
We chose Kickstarter as a Crowdfunding venue because it already has a built-in community of engaged, forward-thinking users—the kind of people we would expect to be interested in an emerging technology like 3D printing. Many 3D printers and 3D printing related projects are greeted with enthusiasm and support by the Kickstarter community, so it felt like the natural option. We need some help to get our operation where it needs to be, and Kickstarter has proved to be a great funding venue for many 3D printing projects in the past and we hope ours will be one that stands out to people.
Is Crowdfunding good for innovation? How so?
Crowdfunding can be a wildly generous yet cutthroat-capricious beast—but that's part of what makes it so good. Backers decide which projects rise to the top and which never make it off the ground. This forces creators to continually bring unique, interesting projects to the table in order to appeal to the scrutinizing, skeptical eyes of the information-sifting age. If you want your project to be funded, it has to have the right combination of intrigue, substance, and trustworthiness—all values we need more of in this world.
Reactions on KS so far?
Since this is our first Crowdfunding venture we weren't sure what to expect, but everyone who has backed our project thus far has been really supportive and refreshingly curious. I am amazed at the number of actively involved members who have reached out to us with useful comments and questions—if nothing else, this campaign is helping us to understand our audience and their wants and needs on a strikingly personal level. People really do care, and Kickstarter has been a great reminder of that community spirit!
What lessons have you learned from your campaign?
We started this campaign as a way to find our audience and allow our voices to be heard on a global scale, but what we have learned since our launch is that to be successful on Kickstarter you often have to establish an audience first, and then bring them with you. Getting exposure is a tricky task, but we have learned a lot and are making adjustments as issues are brought to our attention. We are learning how to approach marketing from a more fully-orchestrated standpoint.
You say the Origin was built with a future where food, bio printing and more are possible– which future applications are you most excited about?
I personally am most excited about the possibility of breaking down and printing materials at a molecular level. While that goal may seem far-reaching, it is perhaps the off-the-wall sound of the idea that makes me want it all the more. I'd love to have an attractive all-in-one machine for object creation right in my home, and I am excited to have a front-row seat of making that dream a reality.
There are many 3D printers on Kickstarter and Indiegogo and they often do well, yet 3D Printing has yet to really take off in the public sphere – why do you think this is?
According to the Wohlers Report (sometimes referred to as the "bible" of 3D printing) the industry is expected to grow 400% by 2018, and 700% by 2020. While the next big step in 3D printing is expected to be a more universal acceptance of rapid prototyping in business and manufacturing settings, personal 3D printers are expected to rise in popularity alongside them as the technology becomes more normalized. I think that 3D printing technology still seems like a daunting, unreachable technology to everyday citizens—and in some ways it is, if for no other reason than that the speech surrounding the industry sounds like a foreign language to many. Zeni Kinetic fully believes that soon 3D printing will be as normal as connecting to the net, and we want to help ease this transition for our customers every step of the way by providing them with tutorials and an accessible company persona.
Another reason that 3D printing has yet to take off in the public sphere is that most people see the technology as more of an expensive novelty than the valuable personal tool it could be. The Zeni team uses 3D printing in our projects and innovations every day, but it is only once our neighbours, family, and friends start illustrating what 3D printers can really do for the everyday person that 3D printing will start to take off in the public sphere. We are always trying to find new ways to showcase the usefulness of 3D printing and how it can be used to enhance business and personal projects.
What's the tech scene in Salt Lake City like?
The technology scene in Salt Lake is actually a lot more active than people realize— everywhere you look a new high-tech business is either being formed or gaining traction. We personally know three local high-tech business incubators whose sole focus is to help companies get noticed and stay viable, and they never have a shortage of projects in SLC.
Possible business use/advantage?
You could write a book on all the possible advantages of 3D printing in business, and while rapid prototyping early versions of products and parts is one popular advantage, it is far from the only use. The benefits of additive manufacturing are only limited by the user's ability to select and create forms that are useful to them. 3D printing is predicted to be more disruptive to the way we live and structure our lives than the personal computer, and where it goes as far as business is concerned will be determined by market demand and manufacturers, but we are glad to be a part of the force that is steering this technology forward.
Aims for the future?
It's only a matter of time until 3D printers are as usual in the home as cell phones, computers, microwaves, and VCRs grew to be as industrial history has progressed. We are one of the few companies designed with the ability to adapt to changes in the industry that would perhaps derail other business models. We have a lot of exciting goals set as a company that we're going to keep to ourselves for now, but one benchmark that we are particularly excited about is the ability to print fully functional solar panels on the Origin to help push forward the renewable energy revolution. This advancement, and many of our other ambitions, may be a few years away, but we won't look back until we get there.