Human Resources
Typical 24: Steve Rafferty, Avaya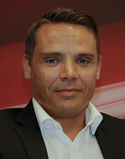 Name: Steve Rafferty
Job title: UK MD
Company: Avaya
Location: London/Guildford, United Kingdom
Years' experience: 25
1. What time do you reach the office each day?
Anytime between 7.00 and 8.30. depending on where I am working that day. We have two offices in the South East: Guildford and London. Thanks to Avaya unified communications and collaboration technology we can work effectively from anywhere and I regularly work from home, which means I start earlier.
2. Is your job varied?
Massively. I am always meeting a variety of customers, partners and prospects. I also spend Mondays and Fridays forecasting. Monday is planning for the week ahead and deciding on deliverables while Friday is a look ahead to the following week, planning who we need to visit and what we need to achieve. These sessions are different every week and I thrive on the variety.
3. Is your job creative?
We are always trying to be creative in the way we offer digital transformation, so that it helps our customers address their business challenges. I believe an important part of my role is to challenge the norm and make sure that my team understands our customers and their changing needs.
4. What do you spend the majority of your time doing?
Meeting people. On average I meet around four customers and four partners every week. These are mostly face to face meetings, but thanks to Scopia quite a few are via video. Scopia works on any device, in any location, and so I use it at home, from the office, in hotel rooms – even on trains and in the carparks of motorway service stations. It's a much more immediate and engaging way of 'meeting' people when you can't physically be face-to-face and I find it works well both with customers and partners as well as employees.
5. Do you personalise your desk?
o, it's bit of a mess if I'm honest and because I work in different locations I don't tend to keep day to day essentials on it – all the documents I need are stored in the cloud and I can access them from anywhere.
6. Would you describe yourself as creative?
Maybe not in the 'media industry creative' sense of the word, but I definitely think I am. I'd say that pretty much every job in the tech industry involves some creativity – that's what's so great about it. For example, I look at complex issues, how to get the best out of my team or how to make the most of a limited budget and drive business value, and try to solve them simply.
7. Do you have any quirky daily rituals?
I always look at the time at 8.34! This is because 834 was my exec code number when I hit my first sales target. I billed 370% of my number so it was a real highpoint for me.
8. Do you tend to work on your own or with colleagues?
Definitely with colleagues. We have fantastic collaboration systems in place at Avaya, like the Scopia video tool I mentioned earlier, so it is easy to work anywhere and get just as much done. I think it is much more productive to work as a team and that applies to our customers too. By spending time with customers and getting to know them, I've found you're ultimately able to work in partnership rather than in a traditional supplier-customer relationship. This benefits both parties as you can get a real sense of what the customer wants and the challenges they have to overcome.
9. How many hours on average do you work a day?
It's hard to say, my day is pretty fluid but I'd probably say 12 hours.
10. Roughly how much time do you spend each day on email? Taking calls? In meetings?
I check emails consistently throughout the day. I'm always on the phone when I'm travelling and I spend around 6 hours a day in meetings.
11. Do you use social media much for work?
Personally, I use it mainly to keep up to date on the news. I'm a bit of a news junkie and fascinated by business and politics in particular. I like to know what is going on.
When it comes to work, I see it as a powerful tool when communicating with prospects or other contacts – personally I know I would prefer a more targeted approach than a phone call out of the blue. In fact, we've found social selling works very well for us, particularly in the midmarket. The social approach definitely allows us to get into the DNA of our targets and with relevant content, can help us open up new business channels.
12. What do you enjoy most about your work?
I like to watch people develop and become successful. I am a big fan of team sports and I see business as a team sport. Whether it is someone in my team or elsewhere in the company, I enjoy watching people achieve – even if I wasn't involved!
13. What type of music (if any) do you listen to at work?
I am a massive fan of The Killers – I'm impatiently waiting for their next album. I also like listening to Coldplay, Jamie T and a bit of classical music – anything really! To be honest, though, with the amount of time I spend in meetings, I don't really listen to music much at work.
14. What do you do for lunch?
In the office, it's a salad. If I'm travelling, it's a sandwich and crisps. Lunch is generally something quick for me.
15. Do you socialise with work colleagues?
Yes. I'm on the road most of the week so I socialise with colleagues and customers quite regularly over dinner and drinks. It's part of that relationship building that I mentioned earlier – it helps you better understand your colleagues, customers and partners and therefore deliver stronger, more tailored results for them.
16. Are there any tasks (through your career) you've been especially glad to get rid of?
When I first started out, I used to have to make coffee for the older sales guys, now I don't!
17. What is your last task of your day?
I look at my diary for the next few days and double check my emails in case I missed anything.
18. How do you like to relax after work?
I like to spend time with my kids, play sport and go to the gym. I must admit though, I will always check my email before going to bed.
19. Do you keep checking email through the evening?
Yes – pretty regularly too. It's really just for peace of mind!
20. Do you take work projects home with you?
Yes. I like to be involved at all stages of the business so if I have to take a project home, so be it.
21. What would you say to your 20-year old self?
Get an education, it is priceless. I would also tell myself to face issues head on, otherwise it will always turn into something bigger.
22. If you could try out any job for a day, what would you choose?
Songwriter. A successful one of course.
23. What device did you use to answer these questions?
Scopia, Avaya's video conference and collaboration tool. I got a colleague to interview me and recorded it, so the process would be more authentic!
24. Do you use your own personal device for work?
I have an iPad, iPhone and a laptop. The iPhone is what I use 90% of the time as I'm always on the go. By using my iPhone I can get a huge amount done from a single inbox, anywhere in the world. Using collaboration technology, I check emails, voicemails, IMs and document changes from my phone and I can conduct meetings too using our video conference tool capability.