Human Resources
C-suite career advice: James Foley, Resilient Plc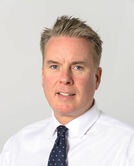 Name: James Foley
Company: Resilient Plc
Job Title: Vice President
Location: London, UK
What was the most valuable piece of career advice that you received?
One of the most valuable career lessons I've learned in the past 25 years, is about the importance of work-life balance. Robert Widener is an American tech visionary I admire greatly, and he used to say that to be successful, one should spend a third of their life for work commitments, one third for play and the rest for personal or professional fulfilment.
Today's always-on work culture, however, rarely allows such perfect work-life balance to be achieved, which means one's personal or professional development can suffer. Nonetheless, the nine to five Monday to Friday model is increasingly becoming outdated and the standard eight-hour workday is more often associated with a lack of engagement and productivity in the workplace - especially in creative and entrepreneurial businesses.
A growing number of businesses are adopting new technology, such as cloud-based services, secure remote server connection, or applications that allow business and personal calls to be made from the same device. These organisations have embraced flexible working as a key asset for attracting and retaining talent. Promoting such practices enables people to be innovative, be themselves, and ultimately perform better at work. This in turn improves their work-life balance and general well-being.
What was the worst piece of business advice that you received?
A lack of certainty is part of the fabric of the decision making process in business development. No one can really predict the future or the outcome of an investment, yet seeking good counsel and the opinion of others is still important – as long as you trust your own instincts too. Sometimes everything can be right but the timing – indeed, an idea can sometimes be sound, and yet too far ahead of its time.
Through the years I have invested in various companies and ideas, and the most important lesson I have learned so far is that to achieve success people should only invest in things they truly believe in and feel passionate about. This attitude can be the difference between a satisfactory return of investment or not - and more importantly, lead to greater fulfilment regardless of the financial outcome.
What advice would you give to someone starting their career in the tech industry?
Technology is currently one of the fastest-growing sectors in the UK. Due to the entrepreneurial nature of the tech space, the industry provides a great variety of options for career development, enabling individuals to craft their own career paths in sync with their individual skill set and professional aspirations.
My advice for new starters in tech is to take full advantage of what the industry has to offer – nurture your contacts, explore new ideas and delve into new ventures for business development. Furthermore, always follow your true passions and dream your way to success. Considering the creative and innovative nature of the people working in the tech industry today, you can only benefit from working with like-minded people, who can help inspire you to achieve your goals.
What tips would you give to someone aiming for a c-level position?
There are two ways to work your way into a C-level position. You can work your way up from the bottom with the final goal in mind. The second option is to gain enough work experience to start your own business, where you can start off as a C-level executive from the beginning.
Whichever route you decide to take, I would recommend adopting the thinking and the bahviour of a CEO in your respective team, business unit or department. This means taking responsibility, being considerate of the businesses goals, mindful of the obstacles, and staying proactive. If you can act like that throughout your career – you'll be on the road to the C-suite sooner or later.
Are you particularly proud of any career advice that you've given or the career route/development of anyone you've mentored?
I've always advised people that want to be a top performer to see challenges as an opportunity to proactively showcase the quality of their work, and their talent. On many occasions, otherwise outstanding employees hide their light under a bushel, or are even used by others in pursuit of their own career goals.
Having mentored an individual in such position, I am always proud to see them being recognised for their hard work – and fighting for that recognition. This attitude through the years lead to them outgrowing their manager and even the organisation they worked at.