Wireless Technologies
C-suite talk fav tech: Alexandre Tomic, ALEA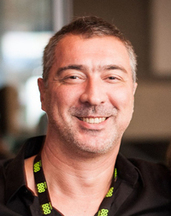 Name: Alexandre Tomic
Job title: CEO
Company: ALEA
Industry: Egaming
Location: Barcelona, Spain
Years of experience: 15
What is your favourite personal gadget?
It used to be my smartphone, the Samsung Galaxy Note 7, and the Gear VR that came with it. I loved it because this, in comparison with the desktop VR equipment which is more complicated, was just plug and play. You buy the games; you play the games. And as for the phone - it's such a shame that it was so unstable, because it's the best phone I ever had. I've gone back to my iPhone now, but I loved the Note 7 so much that I'm going to buy the Samsung S8 when it comes out in March - after waiting a while to see how it goes, of course! I would also love to try the Google Pixel to experience what Daydream VR is like.
Do you have a favourite piece of personal software?
The Steam video game platform paired with the HTC Vive.
What was the first piece of technology you got really excited about?
I actually remember this very clearly - although now I'm finding it very difficult to narrow it down to just one piece of technology. Firstly, there was the Nintendo ColecoVision, which was a game console released in 1982. It was the most similar experience you could get at home to arcade games, and it was awesome. Then there were the ZX Spectrum and the Commodore 64, the first home computers in the UK and US respectively.
What device improves your life most at work?
My Macbook Pro.
What software keeps you most productive at work?
Skype and Chrome.
Is there any technology that has become extinct that you would like to resurrect?
Cathode ray tubes. Obviously, they became extinct for a reason; they involved having an electron gun in front of your face, from which you were only separated by a piece of glass. But the image was much better and the contrast was much stronger than it is now, and I think it's a shame to lose that kind of image.
Is there any technology you would personally recommend that you don't think enough people know about? (Hardware or software, work or personal)
Transcranial Magnetic Stimulation. It's a device that you put on your head and it stimulates your brain with electromagnetic waves to help you concentrate or relieve pain or depression, for example. It has many functions - it just depends where on your head you put it - and it can be very effective.
Do you think anything about your personal use of tech would surprise your colleagues?
Probably getting high on mushrooms and experiencing VR!