Wireless Technologies
C-suite talk fav tech: Jason Atkins, 360 insights
CIOs, and increasingly CMOs and CEOs, may be responsible for the technology within their group but what about their personal preferences? We profile the global c-suite to learn more about their 'fav tech.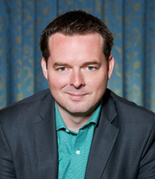 Name: Jason Atkins
Job title: CEO
Company: 360 insights
Industry: Channel marketing
Location: Ontario, Canada
Years' of experience: 21
What is your favourite personal gadget?
I'm never without my iPhone. It's the first thing I open my eyes to in the morning, the last thing I see at night and every moment in between. That includes the middle of the night!
Do you have a favourite piece of personal software?
I'm big on family but work can put me in eight different cities within the space of a week. Because of this, one of my favourite apps is Apple's Find My Friends. I have a 14-year-old daughter. While the cat's away…she better be doing her homework!
What was the first piece of technology you got really excited about?
This would have to be BBSs (Bulletin Board Systems). These were the social media platforms of the 90s. BBSs meant that you could be sat in front of your home computer, exchanging messages and swapping stories with people on the other side of the world.
What device improves your life most at work?
I have a Fitbit Charge HR, which monitors your heart rate. It keeps me honest on stepping away from my desk and forcing myself to take a walk. Pacing through the office on my way to the coffee and soaking up the buzz from my team is when I am the most inspired.
That heart rate monitor also comes in handy in meetings. Every now and then, I'll cast my eye over the screen and gauge how stressed or excited I am.
What software keeps you most productive at work?
I'm going to have to list three because it's impossible to pick. My shared Outlook calendar is the only reason I am where and when I should be. I'm also an avid Wunderlister. It's a simple to-do list app but I wouldn't get half as much done without it.
And a fun one - Full Contact. It's one of those apps which uses your phone's camera to scan business cards and add contacts. But this one is the only one that works 100% of the time.
Is there any technology that has become extinct that you would like to resurrect?
I loved my BlackBerry and I would have it back in a heartbeat. I miss having a keyboard. There's just no getting away with under-the-table texting with these touchscreen phones. I reluctantly made the move to iPhone only three or four years ago because I needed more apps.
Is there any technology you would personally recommend that you don't think enough people know about? (Hardware or software, work or personal)
Here's one that I'm surprised more people haven't tapped into – Lastpass. This is great. It's an app that manages all your passwords. There's nothing worse than trying to remember which password you've used for what account or whether this version includes uppercase AND lowercase letters, a number or a special character. That headache is behind me.
Do you think anything about your personal use of tech would surprise your colleagues?
I'm not sure how much of a surprise this is but I'm a data junkie. I use Excel for everything. Everything you can use it for and then a number of things I'm sure fall into the category of 'taking it too far'. I just love it. My daughter came home with her report card last night. First thing I did? Added her grades to a spreadsheet so I could see how she'd improved from last term. Nothing's getting passed me!