Wireless Technologies
C-Suite Talk Fav Tech: Heather Baker, TopLine Comms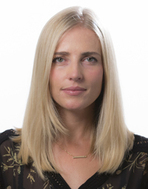 Name: Heather Baker
Job title: CEO
Company: TopLine Comms
Industry: Marketing
Location: London, UK
Years' of experience: 12
What is your favourite personal gadget?
It's kind of predictable, but I have to say my iPhone. I live my whole life through my iPhone, from banking to keeping a journal, to to-do lists, music, podcasts, guided meditation apps, my home CCTV system, calorie counters, and even a weight gain checker throughout my pregnancy!
Do you have a favourite piece of personal software?
It's very hard to choose just one, but I would probably have to say MyFitnessPal – it gives me an easy way to keep track of what I'm eating so I can stay in shape. Sometimes just entering a food into the app and seeing the calorie and sugar content is enough to make me stop eating it on the spot.
What was the first piece of technology you got really excited about?
I get excited about technology all the time. I grew up in South Africa and when I was 15, my mom bought our first computer. It was connected to the internet which blew my mind, and it had the full Encyclopedia Britannica on it – I absolutely loved it.
More recently, the Kindle was probably the most exciting and transformational gadget I've ever bought – I'm already on my sixth one. Running a business is challenging. Problems arise, and they need to be addressed quickly. Pre-Kindle, I would have to order the relevant books online and wait a week to start solving my problem. Now I can do it in a matter of minutes. The result is I consume books at a pretty rapid rate.
What device improves your life most at work?
My Macbook Air. It's amazing – I take it everywhere.
What software keeps you most productive at work?
Asana and Xero are my two top work tools.
Asana keeps the whole team working together and makes it extremely easy to manage tasks and make sure stuff gets done. We are very strict about how we use Asana at TopLine – every member of the team uses it in the same way. That means that tasks never get missed and we can easily respond to the unexpected: someone has to take time off suddenly, and we are very clear on what they were supposed to be working on, so we can pick it up.
We use Xero to manage our accounts. It keeps me productive because it gives me a very clear, real time picture of where we stand financially. This is important because it means I can make business decisions based on the correct financial information.
Is there any technology that has become extinct that you would like to resurrect?
I was a huge fan of the Nike Fuelband. It was simple and it worked. I have since had a Basis Peak, an Apple Watch, a FitBit and a Jawbone Up – many of them are much more sophisticated but I don't think they add much to the functionality of the Fuelband – and they're all a little masculine-looking (except the Jawbone).
Is there any technology you would personally recommend that you don't think enough people know about? (Hardware or software, work or personal)
Darksky is an amazing app that gives you a hyperlocal weather forecast. If you want to know if it's going to rain on your way to a meeting (i.e. in a very specific location), it'll tell you with a high degree of accuracy.
Do you think anything about your personal use of tech would surprise your colleagues?
I think people would be surprised at how much I spend on apps. When you look at all the taxis through Gett, the weekly laundry and dry cleaning service through Laundrapp, the Spotify, Economist and Strava subscriptions, the books I buy for my Kindle, the CCTV service – it all adds up!