Human Resources
Typical 24: Martin Ashall, CA Technologies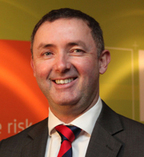 Name: Martin Ashall
Job title: CTO, UK
Company: CA Technologies
Location: Slough, UK
Years' experience: 27 years' experience
1. What time do you reach the office each day?
It varies throughout the week. I live in the north of England and therefore travel down on a Monday morning, which means I get in at about 10:00am, depending on the motorways. Throughout the rest of the week, I'm usually in the office at 8:00am and then I try to work from home on Fridays, as the M6 is not a good place to be on a Friday afternoon.
2. Is your job varied?
Very much so, you never know what the day is going to hold. I can be doing a number of activities from one-to-one meetings with team members and customers, to being out at events where I speak on different topics. The audience I speak to at events varies from influencers, media, part of an expert panel, or in one instance, taking part in a pub quiz.
3. Is your job creative?
It's creative in terms of spending time with customers and thinking of new ways to help them understand the technology, which underpins the application economy and how they can stay ahead in the digital world.
4. What do you spend the majority of your time doing?
The majority of my time is split between managing a team of 30 people to meeting customers. I spend a lot of my time in meetings and on conference calls with a variety of people.
5. Do you personalise your desk?
As I work from home and I also spend a lot of time meeting people, I haven't personalised my desk. At the moment, my desk is where I put my suit jacket in the morning before starting the day.
6. Would you describe yourself as creative?
Yes, I have to think on my feet, come up with new ways to entice customers and help them understand how to survive in the application economy.
7. Do you have any quirky daily rituals?
It may not be a ritual as such, but I enjoy my 11am cup of coffee. I always try and use this as an opportunity to have 15 minutes to catch up on emails and reflect after a busy morning.
8. Do you tend to work on your own or with colleagues?
At CA Technologies, I nearly always work with colleagues, which I really enjoy.
9. How many hours on average do you work a day?
When I'm away on business the working day can be longer than when I am in the office or working from home. I'm constantly checking my emails in the evening and can regularly be found working until 7pm before logging off for the evening.
10. Roughly how much time do you spend each day on email? Taking calls? In meetings?
I would guess that I spend roughly 5-6 hours in meetings, 2-3 hours on calls/ conference calls and that will be interspersed with emails but I try to push them until the end of the day unless it's anything urgent.
11. Do you use social media much for work?
No, but I'm trying to improve! I'm guilty of not using it as much as I want to so I've set myself the challenge of trying to use channels like Twitter a little bit more.
12. What do you enjoy most about your work?
I enjoy working with people as it adds a lot of variety to the day. I also get a thrill from helping customers to meet their targets and helping with their challenges in the application economy.
13. What type of music (if any) do you listen to at work?
I don't often listen to music in the office, as I tend to be in meetings for most of the working day.
14. What do you do for lunch?
I always try and take time for lunch if I'm at work. We're quite lucky at CA Technologies because we have an on-site restaurant. I try to gather as many of the team together as possible to go down together. I like to encourage them to take at least 20 minutes out of their day to sit down and talk about something that isn't work related. I've found that it makes everyone more sociable and work better together in the afternoon.
15. Do you socialise with work colleagues?
It's easier to socialise when we're in the city office as a lot of people will get the train back home. However at Ditton Park, based in Datchet, it's slightly harder as people tend to drive, which is another reason why I encourage my team to take time at lunch to socialise together.
16. Are there any tasks (through your career) you've been especially glad to get rid of?
Doing expenses! I'm sure I won't be the only person to say that, but ever since I've had an assistant to do them it's made life a lot easier.
17. What is your last task of your day?
I always do a quick check of emails to make sure everything is calm and there are no urgent tasks that need to be completed.
18. How do you like to relax after work?
When I'm down south I often go bike riding in Great Windsor Park. During the weekends you'll find me walking my dogs and sailing.
19. Do you keep checking email through the evening?
Yes, one of my bad habits!
20. Do you take work projects home with you?
I do. I often find tasks which require a lot of concentration are best done when I lock myself away and work from home, which I often do on Fridays.
21. What would you say to your 20-year old self?
Learn from every opportunity that is thrown at you. It may not always be easy and it may not always go to plan, but you'll learn. Another thing I would say is that you should seize every opportunity. You never know what might be around the corner or what that opportunity may lead to. It may be a risk, but that risk may just pay off, and if it doesn't, you will have still learnt from it.
22. If you could try out any job for a day, what would you choose?
I would love to be a wooden boat builder because you can stand back and admire the craftsmanship you put your heart and soul into.
23. What device did you use to answer these questions?
My new Surface Pro, which I really like.
24. Do you use your own personal device for work?
No, work provided an iPad and iPhone, so don't need to provide my own device.