Security
Billion-dollar baby: Mimecast CEO revels in public status
Peter Bauer has reasons to be happy. Bauer is a South Africa-born entrepreneur who holds British citizenship and floated his email security company Mimecast on the US NASDAQ a year ago. While the stock didn't do much on debut, Bauer now runs a company with a market cap of over $1.2bn thanks to a recent incline in share price.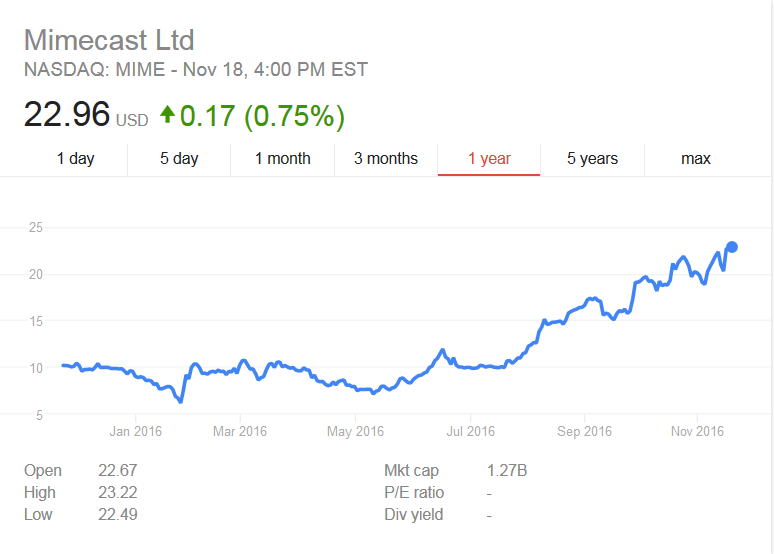 So what accounts for the upswing, I ask him.
"We went public in November [of 2015] and then went into the nuclear winter of IPOs," Bauer recalls of a time when the usually hot market for tech floats all but dried up. February this year was a disaster for technology companies and a lot lost value so we were 'guilty until proven innocent'."
Bauer and his CFO helped prime the pump by hitting the road and spending time with fund and portfolio managers, preaching the Mimecast mission. But more important has been the delivery of four quarters of strong results with about 1,000 new customers being added every three months until the most recent blockbuster Q2 brought 1,900 new names and 38 per cent year on year growth based on constant currency.
Part of the logic of the IPO was to give a warm sense of comfort to buyers who like the idea of purchasing from companies with transparent financials and a public profile.
"Buyers can feel less exposed to being fired for buying from a public company than a private company," Bauer says. "Nobody ever accused email of being the next big thing and as a private company we'd been toiling in obscurity. Growth in all segments is picking up strongly, we've had more six-figure deals than we've ever had recently and that's maybe a 'larger company' thing."
While others like McAfee with its former MX Logic service are exiting the sector, Bauer says he sees no end in sight for demand, thanks to ransomware, social engineering and all the other email-borne threats.
"Hackers have just moved to the Achilles heel which email gives them access to – people," Bauer says. "That's left a huge amount of exposure and it's become very visible."
Mimecast mostly deals in subscriptions and most deals are small-ish, delivering $10-20,000 per month to Mimecast's coffers. That, and the critical importance of information security means the company is unlikely to be hurt by recessionary conditions. But what about the strange recent events that will see Britain almost certainly leave the European Union and a new POTUS in the White House – will the latter's sabre rattling give companies yet more concern about where their emails are stored?
"I went to bed as a British citizen in New York - bit of a Sting theme tune to that - and woke up, to my surprise, to see that we had a new president. The whole election process seems to be like a game of 'would you rather?' in a party after successive tequilas. This whole nationalistic thing, this counter-globalisation piece, makes people a little bit less eager to use services hosted out of country or jurisdiction. We have a good model for that."
Bauer won't say so but a datacentre in Germany seems a highly logical next step. The increased tendency to breach notifications and more governance red tape are also likely to drive activity.
Bauer sounds relaxed and sanguine – even the incoming President does not rattle him.
"[Trump] spoke very well, as any TV star would, as to what is the mood and how do you sell [people] back on the whole motherhood-and-apple pie thing. The whole thing will be ok. The country is a machine in itself."
Also read:
Mimecast CEO stays bullish
No longer a secret, Mimecast CEO pulls off $0.5bn IPO
Mimecast CEO swerves 'frothy' markets, plays a long game
Mimecast's next trick: unlocking unstructured data
Emotion, graft and focus: Inside a tech IPO