Wireless Technologies
C-suite talk fav tech: Iain McConchie, The App Business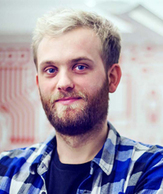 Name: Iain McConchie
Job title: Head of Design
Company: The App Business
Industry: Technology
Location: London, UK
Years' of experience: 12+
What is your favourite personal gadget?
My iPhone. I use it every day, probably too much. However, given it's where I get almost all my news, entertainment and information - not to mention the fact I'm able to use it to keep in touch with family and friends - it's easy to see how much it can get used.
Do you have a favourite piece of personal software?
It's a close tie between VSCO Cam and Tweetbot. VSCO is my kind of photography app. [It has] the right blend of pre-sets and adjustments, without getting too bogged down in the granularity of pro photo editing. As for Tweetbot, I've always been a fan of the Tapbot app aesthetic, and given I use Twitter everyday it's good to have a pleasing interface to interact with it.
What was the first piece of technology you got really excited about?
It was probably the ZX Spectrum. We had them at my school when I was growing up and while they are woefully underpowered by today's standards of personal computers, they were eye-opening for a kid of my age. I mean, you could program BASIC and make the screen animate with colour. What seven year old doesn't find that exciting?
What device improves your life most at work?
My Macbook Pro. Powerful, versatile and a Retina screen. El Capitan is a great update, too. Ask me again in a year, though - now the iPad Pro is out that could change…
What software keeps you most productive at work?
iA Writer. It's what I've used to answer these questions and I use it whenever I need to write any text (which I find myself doing increasingly more and more these days). It works across devices integrating with iCloud and OSX Handoff so I can seamlessly pickup my writing on whatever device I choose.
Is there any technology that has become extinct that you would like to resurrect?
I can't think of a particular technology that would warrant resurrection. From my experience, most useful technologies have evolved and been iterated on and are part of what we use today.
Is there any technology you would personally recommend that you don't think enough people know about? (Hardware or software, work or personal.)
Not the most exciting, but I'd recommend Backblaze. It's seamless Cloud backup for your Mac. A native client that makes sure all your important system and personal files are backed up and accessible. I've been very fortunate not to have to use it yet. But if my laptop was ever stolen or damaged, I have the peace of mind that I know I can get to my files.
Do you think anything about your personal use of tech would surprise your colleagues?
No, I don't think it would. I've been mildly obsessed with technology for years (probably since the Spectrum). Most of the team at The App Business are well-aware of that, and are similarly obsessed I'd say.