Human Resources
Typical 24: Julie Baxter, CA Technologies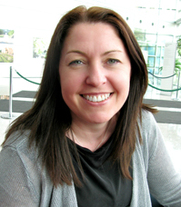 Name: Julie Baxter
Job title: VP Support, EMEA
Company: CA Technologies
Location: Datchet, UK
Years' experience: 20 years
What time do you reach the office each day?
I get to work any time between 08:30 and 09:30
Is your job varied?
Yes. I work in IT so by the very nature of the industry it changes and it changes fast. In the Application Economy and with the vast amount of disruptive technology, the Technical Support Service is changing at a level I have never experienced before. Customers want to talk to us when they want to, via the channel and device they choose and they want the service now. Customer Experience is a huge business differentiator for all businesses today so CA Technology is striving to deliver a World Class CX and this means not only keeping up with the Jones', but staying ahead of the competition.
Is your job creative?
Yes very, and this is why I love it. We are constantly looking for the next improvement to the service, the next new thing, the next new offering, the next piece of technology which makes it super easy and enjoyable for the customers to get hold of my team and get the most out of their investment.
What do you spend the majority of your time doing?
I spend a lot of time on calls and in meetings. The meetings have changed in nature though. CA is becoming more Agile so the way meetings are conducted at CA are more productive, effective and bring much more tangible outcomes. Makes for a much more satisfying day.
Do you personalise your desk?
Yes. I have pictures of my family and drawings that my son drew for me.
Would you describe yourself as creative?
Yes, both at work and at home. I love to make things, I craft and upcycle furniture.
Do you have any quirky daily rituals?
I have a large skinny latte with 3 shots every morning.
Do you tend to work on your own or with colleagues?
I tend to do a lot of work in collaboration with others. My day involves a lot of information sharing and decision making, this rarely happens in isolation.
How many hours on average do you work a day?
About 9 or 10 on average.
Roughly how much time do you spend each day on email? Taking calls? In meetings?
Anywhere between 4 to 6 hours
Do you use social media much for work?
Yes, mainly LinkedIn and Twitter.
What do you enjoy most about your work?
The people. My colleagues are incredible. The talent we have is amazing which means I get to learn something from them every day.
What type of music (if any) do you listen to at work?
I rarely get the chance to listen to music at work.
What do you do for lunch?
I try to go to lunch with my team in the staff restaurant, but sometimes I end up eating at my desk.
Do you socialise with work colleagues?
Yes, both old and new.
Are there any tasks (through your career) you've been especially glad to get rid of?
Nothing specific no.
What is your last task of your day?
Check my calendar for the next day.
How do you like to relax after work?
I exercise, gym, swim or Pilates. I also sing in a choir, it's like therapy for me.
Do you keep checking email through the evening?
Yes.
Do you take work projects home with you?
No.
What would you say to your 20-year old self?
Lean in.
If you could try out any job for a day, what would you choose?
To be a teacher.
What device did you use to answer these questions?
Laptop at my desk.
Do you use your own personal device for work?
Yes. My iPhone 6 goes everywhere with me.