Human Resources
Typical 24: Kumar Srikantan, Pluribus Networks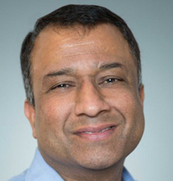 Name: Kumar Srikantan
Job title: President and CEO
Company: Pluribus Networks
Location: San Francisco, California, United States
Years' experience: 25 years
1. What time do you reach the office each day?
Sometimes I get to the office very early, while other times I get in "late" by conventional standards. It all depends on what my meeting schedule looks like each day, but overall, I aim to reach the office each day at 7 a.m.
2. Is your job varied?
Yes, it is, but I would say it is no different than most CEO jobs. Each day I'm working with customers, partners, employees, investors, reporters and more. In some senses, the role requires that I touch everything, so there is never a dull moment!
3. Is your job creative?
I would say yes. As a young company, we are required to "earn every dollar," meaning we must get creative with the resources we have available to us which are not on par with the resources available to large companies. This forces an element of creativity from us on all fronts.
4. What do you spend the majority of your time doing?
A large part of my job is articulating Pluribus Networks' business value to customers, shareholders, partners and employees. For that reason, I spend the majority of my time interacting with members of these audiences as well as determining where our resources will be best allocated.
5. Do you personalize your desk?
I have a virtual desk, meaning I sit all over the office. I do this so I can interact with team members across the board. As I type this, I am sitting in our "Tesla" conference room. Typically, what I do is try to find the far corner of whatever room is available to do my work. I attribute this to human nature, as most people tend to gravitate toward the same spots even when they have a choice!
6. Would you describe yourself as creative?
Yes, I would, but not in the traditional sense. I'm a firm believer that there is always more than one way to solve a problem, and finding those solutions requires creativity.
7. Do you have any quirky daily rituals?
When I wake in the morning I have three doses of ginger tea. I cannot function without it. I take it with me wherever I go so it is always on-hand. I use the most hardcore tea you can get from Lipton. It's generic, but delicious.
8. Do you tend to work on your own or with colleagues?
I am a collaborative person and I attribute that to my working in large companies for much of my career. I often use the best practices I learned from those organizations when conducting daily business for Pluribus Networks.
9. How many hours on average do you work a day?
I would say I work about 10 hours per day. I'm not a big believer in working a crazy amount of hours. My philosophy is that it is better to "work smarter" whenever possible.
10. Roughly how much time do you spend each day on email? Taking calls? In meetings?
I spend about 20 percent of my time on email and about 30 percent on calls. The other 50 percent of my time is dedicated to meetings.
11. Do you use social media much for work?
Personally, I do not. However, our marketing team does use it to engage with the public, promote events and share relevant company news.
12. What do you enjoy most about your work?
I enjoy the nature of my role. There is something incredibly exciting about building a company and helping make it successful. I also enjoy the nature of the Software Defined Networking (SDN) industry. In such a dynamic market, companies that are "friends" today can be "enemies" tomorrow, and vice versa. It keeps things very interesting.
13. What type of music (if any) do you listen to at work?
I do not listen to music at work.
14. What do you do for lunch?
Just almonds and a coffee. Sometimes I have a piece of fruit. I have not had a real lunch in years.
15. Do you socialize with work colleagues?
Yes, but I tend to socialize even more with colleagues across the industry in related fields.
16. Are there any tasks (through your career) you've been especially glad to get rid of?
Those weekly "1 on 1" meetings I used to have with various bosses? I'm glad those are in the past. I like having only to meet with my board because it's only required once per quarter!
17. What is your last task of your day?
I take my dog out and then I put him to bed. His name is Rambo and he's a West Highland Terrier.
18. How do you like to relax after work?
Typically, I work out even though I should do it a bit more. I listen to music. I go to live concerts in the area. I also attend temple.
19. Do you keep checking email through the evening?
I check my email 24/7. It is just a habit for me. I'm always available and I tell my team that even if I am on vacation.
20. Do you take work projects home with you?
Yes. Sometimes I work early in the morning and sometimes I work into the night. Often it involves extended reading and staying up-to-date with the industry, which I enjoy, so I am able to do this easily outside the office.
21. What would you say to your 20-year old self?
I would say that you should always keep your dreams alive, and think of the bigger picture when evaluating opportunities. "Stay the course" as an engineer as it will provide a great foundation for greater things to come. I would tell myself to ask advice from family members, trusted friends, university leaders and leaders in industry as people are always willing to lend advice to someone just embarking on their career.
22. If you could try out any job for a day, what would you choose?
I would like to work as a customer support engineer to experience what Pluribus Networks' own customer support engineers experience on a daily basis. I'm aware of the issues they deal with, but to think as quickly as they do and work as hard as they do for our customers – I would like to figure out how they do it! Outside of my own company, I would be interested in trying out the role of a fast food worker. These individuals work incredibly hard and I would like to see what it takes to perform their job so effectively.
23. What device did you use to answer these questions?
I typed my answers using my iPhone 6.
24. Do you use your own personal devices for work?
I use a company-issued Mac but I do a lot of business on my own cell phone. Our employees are also allowed to use their own devices. But we actually go a step further and purchase any device they wish for them. It's a perk that's been well received.