Human Resources
Typical 24: Gordon Fletcher, Salford Business School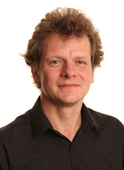 Name: Gordon Fletcher
Job title: Dean
Company: Salford Business School
Location: Salford, UK
Years' experience: My first month (but I have been at the University of Salford for 13 years)
1. What time do you reach the office each day?
It varies and can be anywhere between 8am and 10 am (but on some days I will spend an hour or two speaking to colleagues on the campus between the car and my office).
2. Is your job varied?
Yes, it is a cliché but no two days are the same.
3. Is your job creative?
Yes, in many different ways although some days it does not feel that way. There are large elements of design in my role.
4. What do you spend the majority of your time doing?
Communicating with colleagues face-to-face, on the phone and, of course, email.
5. Do you personalise your desk?
Yes and my entire office. But this varies. At the moment I am in a minimalist phase and had got rid of my desk from my old office and I'm about to do the same thing in my new office.
6. Would you describe yourself as creative?
Yes. But in a particular way. I do tend to think in terms of systems, typologies and relationship diagrams.
7. Do you have any quirky daily rituals?
Does drinking a strong black coffee first thing every morning count as a ritual?
8. Do you tend to work on your own or with colleagues?
When I am campus I tend to be working with colleagues. When I am off-campus I spend a lot of time reading, editing and writing – although Google Docs can mean I am also working with colleagues.
9. How many hours on average do you work a day?
It varies significantly but during the week there is not very much down time. I consciously spend Saturdays away from work emails.
10. Roughly how much time do you spend each day…
On email? Continuously. Taking calls? Rarely. In meetings? About 2-3 hours a day.
11. Do you use social media much for work?
Primarily only if I am live-tweeting an event but I do blog daily – usually a picture of something I have seen during the day.
12. What do you enjoy most about your work?
The variety, the people and the opportunities that come across my desk.
13. What type of music (if any) do you listen to at work?
Until recently I listened to Radio 1 constantly (I am part of the demographic they don't like to admit to it).
14. What do you do for lunch?
Generally I don't.
15. Do you socialise with work colleagues?
Yes quite regularly.
16. Are there any tasks (through your career) you've been especially glad to get rid of?
As a general rule anything that has required an overly excessive amount of form filling.
17. What is your last task of your day?
Another cliché perhaps? Checking my email.
18. How do you like to relax after work?
I run every day and preferably somewhere rural or hilly.
19. Do you keep checking email through the evening?
Yes but I am consciously trying to reduce doing this as nothing – if anything – needs such an immediate response.
20. Do you take work projects home with you?
Very much so. I still write academic papers and work on projects and these do come home with me.
21. What would you say to your 20-year old self?
Persevere, be consistent, if you need to make a decision just do it, don't baulk at doing public speaking.
22. If you could try out any job for a day, what would you choose?
An architect, an MP, or a zookeeper
23. What device did you use to answer these questions?
My 13" Mac Air.
24. Do you use your own personal device for work?
Yes, my Nokia Lumia 1020